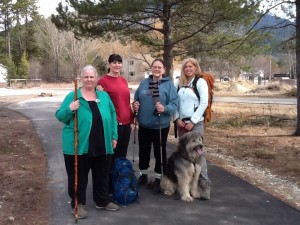 By Korie Marshall
Walking around the world is already showing success – lowering depression and reducing emergency room visits as well as helping people lose weight and lower their blood sugar.
The Valemount Walks around the World program is a grassroots partnership between Northern Health and the Village of Valemount. Organizer Hollie Blanchette was praised by members of the Northern Health board for her enthusiasm and credited with getting so many residents involved at their recent board meeting in Valemount.
"We have tried to make the program as accessible as possible," says Blanchette. "We have a lot of older people that aren't computer-friendly, so they come into the library and I can log in their steps for them. It's about everybody connecting,"
Ten percent of the population is already signed up for the program that started last May, and hopes to see community members take enough steps to make it all the way around the world. Participants get pedometers, a health passport, and access to a website to track their own progress as well as the group's.
"The healthy communities committee wanted to make a program that was easy for residents to participate in and accessible," said Blanchette, and this winter they took the program one step farther. In January, 19 residents met for the first in-door winter walk at the Canoe Valley Recreation Centre, and started on a separate goal – walking to Kamloops for Coffee. That number has already increased to 25, and Blanchette says most of those participants weren't already involved in the Walk around the World.
Dr. Stefan Du Toit often walks indoors with the group, a strategy Debbie Strang, health service administrator for the Robson Valley, told the board has been a huge success. Du Toit says questions that don't come out in a doctor's office will often come out while walking together.
When originally brainstorming the program, Strang says depression, hypertension and asthma were the target health issues the committee came up with, which lead to the choice of a walking program. Six patients volunteered to have their health tracked to help measure the success of the program. In the first bi-annual evaluation, four of the patients lost weight, four reduced their depression scores (PHQ-9), five lowered their blood sugar, and emergency room visits were reduced from nine to zero.
"It is great to see we've actually made some significant progress," said Strang.
The success has inspired community members in McBride as well, and a healthier communities committee has recently been created. Strang says "McBride Healthtacular" is currently in the planning stages, but will track wellness minutes, instead of steps, so stay tuned for updates.
In one year, community members in the Valemount program have taken over 48 million steps, totaling over 36,000 kilometers. The total distance to walk around the world is 49,530 kilometers, or almost 66 million steps. Ninety four people have already signed up, but their goal is to have 30 per cent involved by 2016.
Creating healthier communities is a component of Healthy Families BC, the Province's strategy to provide British Columbians with the tools and supports they need to live healthier lives.
For more information on the program, visit the Walk Around the World Facebook page or stop by the library or clinic to sign up.