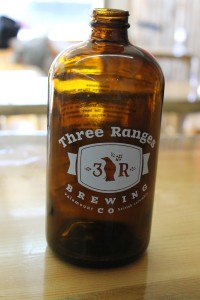 By Korie Marshall
Response has been positive to an application that might see a licensed patio on 5th Avenue this summer.
Three Ranges Brewing Company has applied for a lounge endorsement that will allow more than one glass or tasting flight to be served, and has plans to build a patio.
Valemount Council held a public hearing on February 25th to get community input before making its recommendation to BC's Liquor Control and Licensing Branch. The Village received one written response in favor of the license, and four verbal comments at the public hearing, all in favor of the endorsement.
"It will be a great asset to the downtown core," said local resident Sharon Hoy. "We do enjoy going down and were a little surprised we were limited to a beer, not that we want to sit there all night, but it's too bad he's regulated by that right now."
"It's not a place people are going to go and drink heavily all night," said another local resident Josh Dennis. "It is more of a family atmosphere, where you can go and have maybe two nice beers, and get a growler and go home."
If approved, the endorsement will allow the serving of the company's beer as well as food and non-alcoholic beverages in the lounge area and on the patio. The Licensing Branch also has to approve building plans and inspect the completed patio before approving the license.
Comments can still be submitted, and Council discussed the request at the March 11 Council meeting. Stay tuned.