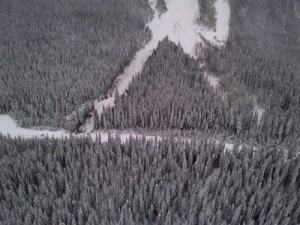 Submitted by VARDA
As snowmobiles get more powerful and riders more skilled, the opportunities for exploring the backcountry grow. But before you head out in to the snow, you need to be aware of the possibility of avalanches.
Almost 90% of all avalanche accidents are caused by the people involved. That means avalanches rarely come roaring down from above with no apparent reason. You, or someone in your group, can trigger a slide just by being on a slope at the wrong time. That's why it's so important to be able to recognize avalanche terrain and realize when you and your friends are taking a risk. Avalanches can happen anywhere there is enough snow and enough incline. It doesn't take much. 30cm of snow on a 25º slope can do it.
Over the course of the winter, the snowpack and the avalanche conditions are always changing. There are times to go out and explore and there are times to limit your travel to mellow terrain!
As snowmobilers we must open our eyes to the reality and dangers of the terrain we choose to recreate in. Day in and day out we see or hear of our fellow snowmobilers making incorrect and uneducated decisions about the terrain they have chosen to ride in. No matter how big and powerful our snowmobile is, it will not save us from the extreme dangers of an avalanche.
Please do your part:
1. Take an avalanche course.
2. Carry and know how to use the proper rescue equipment.
3. Gain knowledge of the area you choose to ride in, this includes:
4. Weather, snowpack, recent avalanche activity, safe areas etc.
5. Choose terrain that coincides with the days conditions
6. Use safe and effective procedures for backcountry travel
General Avalanche Information and Safety Initiatives
Please visit the Canadian Avalanche Centre for a complete source of information.
Backcountry Access and Zacs Tracs have signed on as Sponsors of VARDA once again for the 2011/2012 Snowmobile Season!
Please stay tuned for a list of avalanche courses offered in Valemount by Zacs Tracs Avalanche and Snow Safety Programs