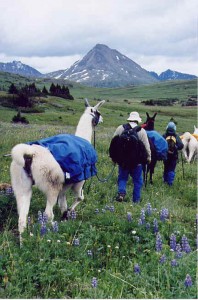 By Korie Marshall
A new fly-in lodge and base for ski and snowboard touring in winter, and llama hiking in summer has just opened south-east of Valemount.
Mallard Mountain Lodge sits among five valleys that flow into the Hugh Allen which leads into Kinbasket Reservoir and the Columbia River.
Derek McManus, president and CEO of Canadian Adventure Company, says they were looking for a suitable site for their new venture, and when they reached the bowl, the helicopter pilot said, "Wow – this is where you put your lodge."
The lodge is set up to accommodate seven guests in winter and eight in summer. The lodge has a living/dining space with a wood-burning stove on one level, semi-private sleeping quarters and showers on the second floor, with washrooms next to the lodge. Solar panels generate power and incinerating toilets produce no solid waste.
This is not McManus's first backcountry business venture. He says his company, Great Northern Snowcat Skiing and two others were the pioneers of the snowcat skiing industry in the 1970's. He got busy with other commitments after a few years and sold the company. Now that his kids have grown up and are adventurers like him, they've decided to start a new company together.
The Ministry of Forests, Lands and Natural Resource Operations says a 20-year license of occupation for Adventure Tourism was issued in November 2003 for the Mallard Peaks area – for cat skiing and llama hiking. McManus says they've been working on the site since 2005, flying in to hike and ski the bowl, planning their operations and the logistics of building a lodge when everything has to be flown in by helicopter. They've just now got to a point they are ready to promote and advertise it.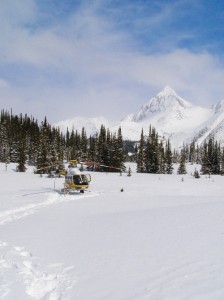 The lodge itself was pre-built and flown in to be assembled on site last summer. McManus says most of the construction flights were from Mica, since that is a shorter flight, but Yellowhead Helicopters' base in Valemount is their commercial staging area. They hope to eventually offer cat skiing, but will be doing ski and snowboard touring for the first winter. The valleys are suited to both snowcat skiing and touring, and depending on the reception and demand, they may continue to offer both, he says.
Llama hiking was a natural extension for the family, McManus says. They have been farming llamas and alpacas for years in the Shuswap Lake area, and have often used llamas to pack equipment while hiking around their own property. He says llamas were domesticated thousands of years ago to carry a small load (less than 90 pounds), and they are sure-footed and environmentally sensitive, requiring less food and water than horses.
"They are enjoyable to be around," says McManus. When they've taken people on hikes with the assistance of llamas, "people get it."
Canadian Adventure Company offers 3-, 4-, and 7-day all-inclusive adventures at Mallard Mountain Lodge, including helicopter flight in and out, fully guided day excursions, and meals and accommodations for as little as $1,530 plus taxes.
This slideshow requires JavaScript.