[corner-ad id=1]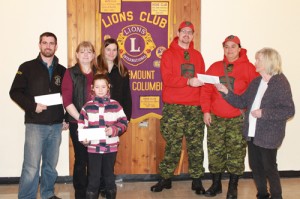 By Korie Marshall
The Valemount Lions Club presented a total of $7,500 to five local youth groups this with financial support from Province of British Columbia.
Barb Shepherd, president of the Lions Club, says she contacted about nine local youth organizations she thought would meet the criteria for funding under the provincial Community Gaming Grants, and five groups both met the criteria and helped with submitting applications this year.
The Valemount Junior Curlers, Junior Rangers, Figure Skating Club, Valemount Minor Hockey, and Youth Soccer each received $1,500 for equipment and programs.
With community youth as their local organizational mandate, the Lions Club hopes to continue giving financial support to community youth groups ever year.