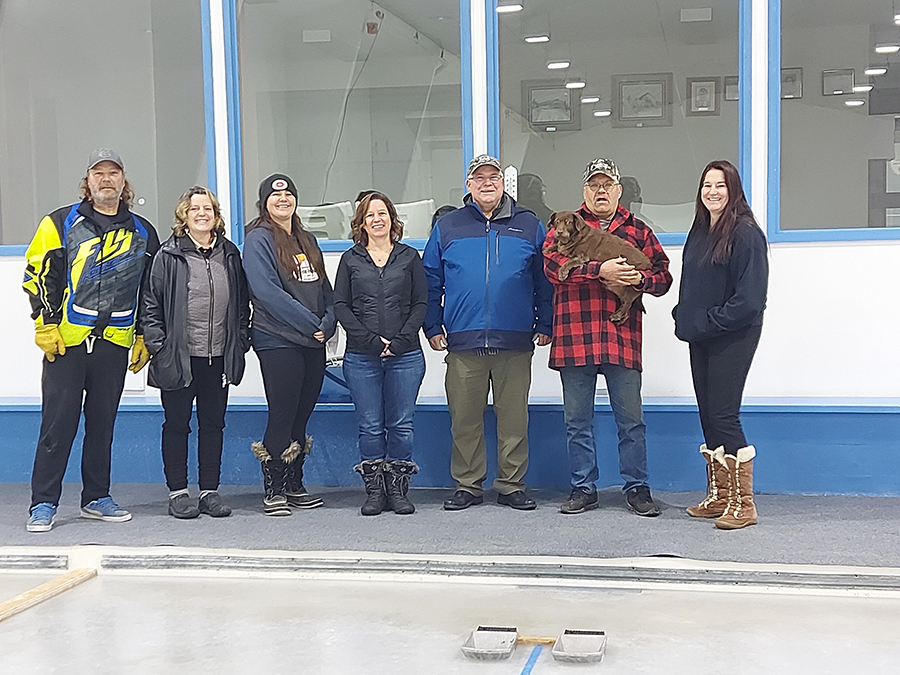 By Laura Keil
After two winters with no ice, Valemount curlers will be back in play as early as this month, thanks to a brand-new ice plant.
The Valemount Curling Club received two grants, one from CBT's community initiatives program and one from Northern Development Initiative Trust, to cover the $205,750 cost to replace their ice plant.
That work is now complete, and Curling Club board director Diana Smith says they are already laying the lines, and hope to have the ice ready for this weekend. Sunday from 11 a.m. to mid-afternoon will be a membership drive at the curling club—$10 for the year. Many people have expressed interest, both pipeliners and locals.
"It's one of those things, when it's gone you miss it."
Even before they shut down, there were roughly 30 curlers in the junior (youth) program alone, in addition to the adult league and the high school PE classes.
Smith is already planning to start a kids curling program starting in January on Thursdays after school.
This year they've also had seniors inquiring about the stick that allows players to throw the rock without bending down.
"There's no bending, so people who have bad knees, bad backs, can still curl," Smith says.
As per current COVID-19 regulations, curlers 12 and up must be vaccinated. Smith says individuals can drop in or four people can come as a team. Curling fees will apply on top of the membership fee. They are tentatively planning to run adult leagues on Tuesday nights and Friday, Saturday and Sunday nights.
"We're just kind of ironing everything out," Smith said. "We've had lots and lots of interest."
Smith said the club will continue to rent the basement to the V-crew youth centre as well.
Ecological benefits
The new ice plant offers benefits beyond curling. It uses half the power it used to and is not water-cooled like the previous freon plant. It also freezes the pad in 12 hours instead of three days.
"We used to use thousands upon thousands of litres of treated water," Smith says. "And the village would have to turn on their pumping stations extra for us because [the water] would just be pouring into the system."
A community effort
It's been a huge effort to rescue the curling club. Smith says she wants to thank the community of Valemount and the Regional District for their ongoing support in addition to CBT and NDIT for the grant money.
When the curling club realized the ice plant needed replacing three years ago, they had a choice: let it go or keep fighting. The building belongs to the club and is located on Village of Valemount-owned land. A referendum to have it tax-funded through the Regional District failed, but club members didn't give up.
"It's something I couldn't let go, to be honest," Smith told the Goat earlier this year. "I grew up in it, and I see the benefits for the community."
She said part of what she's grown to love is how inclusive it is—it doesn't cost much to participate. And it's the kind of sport you can learn at any age. She recalled a winter festival several years ago.
"There were so many people that had never even tried (curling)," she said. "It was really neat to see new people trying new things. It's also one of the only sports left that you can all do as a family."