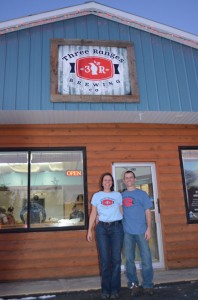 By Korie Marshall
Fans of craft beer in Northern BC should mark January 31, 2015 on their calendars. Prince George will be hosting its first craft beer tasting festival at the Two Rivers Gallery, and Valemount's Three Ranges Brewing Company will be one of the featured brands.
The Kiwanis Club of Prince George will be hosting their first AleFest, a unique new event that will offer the opportunity to taste and discover a variety of high-quality, specialty and premium beers made by local BC and Yukon independent brewers. The event will offer two separate tasting sessions, live music, a souvenir tasting glass, craft beer learning sessions, tapas food paired to featured beers, a silent auction and a professional art exhibit.
A statement from the Kiwanis Club says over the last number of years, consumers' beer palates have become more sophisticated and the small craft beer market has exploded across North America. Craft beer, although still relatively small with less than 10 per cent of the market share, now represents the fastest growing segment of the beer category. In BC, the industry has grown from 35 breweries in 2007 to 50 in 2013. Three new breweries have opened in the last few months in Northern BC, Three Ranges Brewing Company in Valemount, Barkerville Brewing Company in Quesnel and Wheelhouse Brewing Company in Prince Rupert. Kiwanis AleFest will feature these breweries along with Whitehorse-based craft brewer Yukon Brewing Company, Pentiction-based Cannery Brewing, and a few others yet to be announced. Also included will be Prince George's Pacific Western Brewery, who is releasing new premium recipes and seasonal specialty beers using their recently installed pilot craft brewing system.
"There is such an amazing world of more flavourful beers to be appreciated beyond mainstream products," says Bjorn Butow, Chair of Kiwanis AleFest. "Craft beer is about variety of flavours, higher quality smaller batches all locally made by independent brewers."
Volunteer run, the event is being organized by the Kiwanis Club of Prince George as an annual signature event to raise funds for local children charities and Kiwanis programs. Kiwanis (meaning "we trade" or "we share our talents") is a community service organization with a long history since its founding in Prince George in 1954.
Over the years, Kiwanis has held a number of fundraisers to benefit charities and legacy projects such as golf tournaments, community dinners, the building of the Kiwanis Bandshell in Fort George Park, Kiwanis Picnic Area in Cottonwood Island Park and the Kiwanis Resource Centre. The local club is part of Kiwanis International's network of service clubs, representing nearly 600,000 members worldwide.