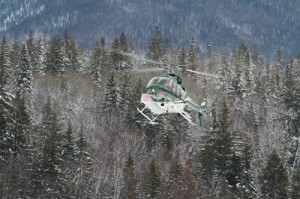 By Laura Keil
Four snowmobilers are happy to be out of the backcountry after spending the night of January 12 on the hill.
Two snowmobilers got stuck near McBride on Mt. Lucille, and two others got stuck in the Allan Creek riding area south of Valemount. Both pairs spent a chilly night on the hill before rescuers came to their aid.
"We went over a bank a little too far and couldn't get out," recounts Leigh Read of Calgary, who was sledding with his friend in Allan Creek. Their ride was only supposed to be half a day.
Read says the snow base is bad right now and they started side hilling – driving their sleds along a slope. They spent four hours trying to get back out. They were eventually able to contact some other sledders by radio and could see them in the distance. Unfortunately, those sledders said their snowmobiles were also stuck.
"So we were like, 'Oh crap, so even if we got there, we wouldn't have got any further.'"
The other sledders advised them they could get out by going to the bottom of the valley. But at the bottom the two men discovered an open jumping creek, too early in the season to cross.
As darkness fell, the two friends dug a hole in the snow and managed to build a fire with nearby twigs. They didn't sleep much.
"We didn't have any logs or anything, so we were just burning branches, and those only last 15 minutes.
"We were just soaked. We'd been riding all day."
Snow continued to fall throughout the night.
"We were trying to dry out and it was just melting on us," Read says.
Luckily they had some food – bars and nuts, and had fresh water from the creek.
The next morning, they started hiking out. They figured it would take them 10 hours to cross the 5 miles to the parking lot.
"The only thing that was keeping us warm was moving," Read says.
The powder was so deep they had to crawl through the snow. They made it about half a kilometre, when a contact on their radio said a helicopter was on its way.
Luckily for the two men, their Garmin radio has a built-in GPS, and the helicopter was able to locate them without any trouble.
One of the rescuers dropped down from the helicopter and he harnessed the two men to a longline. From there they flew a short distance to a flatter area where the helicopter could land and everyone could load up. They left the sleds to pick up later.
Read says his first call when he got out was to his wife. He had given instructions to the guys he radioed the day before to call her, but of course the news would have gotten to her second-hand. He was happy to be back at the cosy Summit River Lodge where he and his friend were staying.
Read said the area where they got stuck is an area they've been to before with no problems.
"It's just the type of snow right now."
"It sucks we got ourselves into that situation, but it happened so fast."
Two sledders stranded near McBride on same day
In McBride on the same day a 19-year-old and 20-year-old from Spruce Grove, Alberta were scheduled to meet friends at the base parking lot at 3pm but failed to show. McBride RCMP were contacted and activated the Robson Valley Search and Rescue team who believed the men may have traveled into the Dore River area which is known to be a difficult area to get out of.
Robson Valley Search and Rescue attempted to look for the men that night, but due to darkness and heavy snowfall they were unable to continue. At first light, the team, with the assistance of a helicopter, flew to the area and visually located the men, but were unable to land near them due to steep terrain. The search crew landed safely on a ridge and with extra snowshoes in tow, descended into the bowl and retrieved the snowmobilers. Once everyone had snowshoed out they were flown back to their vehicles without incident. Neither man was injured.
Robson Valley Search and Rescue Manager Hugo Mulyk says the problem for both pair of sledders was they got stuck in the deep snow and couldn't get out.
Heavy snow, deep snow
The Robson Valley has received about a metre of snow at treeline, according to Tony Parisi who runs Snow Famers, a local snowmobile guiding business. He says the weekend storm snow packed down the existing layer to create about a 2-metre settled snowpack at treeline.
"It's a very study snowpack," Parisi says, adding that the warm temperatures and sticky surface snow can lead to sledders getting stuck.
He says the area's snowfall is slightly above average for this time of year.
Mulyk says the Robson Valley Search and Rescue, receives 20-30 calls each year. The team consists of about 30 volunteers, with half a dozen active members. For last weekend's rescues they were also joined by Jasper National Parks Safety Specialists.
He says this year they have been busy already, with half a dozen rescues since Christmas.
He says weather can be a driving factor, but also sheer numbers of people.
"We're starting to see a lot more use in the backcountry, particularly in winter," Mulyk says. "And that's the time of the year when you're going to run into issues – fewer daylight hours and cold temperatures."
He says they usually more calls in the early winter and the later winter. This is because with the longer days – sledders venture further out and during early winter there are more rocks showing and less snow. Sometimes sledders go into an area where there's not enough snow to get out.
"It's been an interesting winter so far. It's just so erratic in temperatures and snowfall."
One of the two rescuers who came from Jasper told the Goat that because of the avalanche Monday morning, a helicopter had to bring them over since they could no longer drive from Jasper to Valemount.