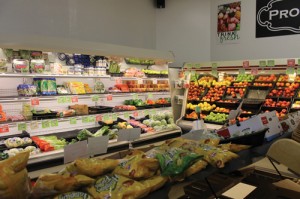 By Chris Parker
Anyone who has done any research will know the statistics for survival of new stores (even in regular markets) and will know that success is somewhat more limited in smaller markets. Unfortunately in markets like Valemount and McBride the success rate of non-affiliated (non-chain supported) stores has an even smaller success likelihood. That said, the key words to substantiate success and growth of any small enterprise are related to willingness to change and be flexible.
In the short two and a half years this writer has been a resident of McBride, many changes have indeed been evidenced within the business community. While some have changed hands, others have gone out of business and been replaced by a new endeavor, or been overhauled and improved (see previous article on 'a new overcoat'). The changes have given a decided new look to our main street in particular. We should also take a moment to recognize the challenge that was thrust on AG Foods who continue to provide yeoman service with their revamped store. In the pictures attached you will note the newly re-equipped produce area, evidence of their continuing effort to service the village of McBride and surrounding area since the unfortunate closure of the IGA.
One storefront for example was formerly a clothing store previously established with a fun name so appropriate to this locale (The Logger and The Lady) but is now the new home of 'Odds and Ends' a quilting, notions, wool and crafting emporium which has recently incorporated a Valemount business (Infinity) with its selection of vitamins, foods and gluten free products amongst its merchandise on display. Only a few weeks ago we welcomed Wilde Mountain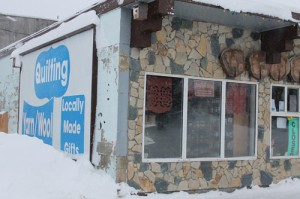 Trading which incorporated the merchandise of another Valemount enterprise (Swiss Bakery) amongst its sales merchandise, along with additional new crafters and other locally produced items. The Robson Valley Indoor Market went even further by offering a home for several local and regional entrepreneurs to market their wares – in this case including a number of crafters, small manufacturers and services within one common building. This grouping or getting together of small enterprise has been developing in earnest, and is giving evidence of further change in the weeks ahead.
One upcoming change specifically involves the Robson Valley Indoor Market, the vendors from which cleared out just prior to New Years. This by discounting and having various sales promotions and then taking the remaining balance back to their homes, while they work feverishly to build new inventory for a spring return of the market. In the meantime 'the Market' will host exercise classes at 6 a.m., yoga lessons at 4 p.m. and then on Thursdays a pot luck dinner beginning between 5 and 5.30 wrapping up between 6 and 7, in order for participants to go over to the close-by school to enjoy square dancing with the Country Squares Club.
All of this action is creating a venue for all the skilled artisans within this local area, a full utilization of existing buildings and an inviting and welcoming village market area To the Wildeman family, Barbara Jackson and the vendors of the Indoor Market congratulations on their initiative and drive to continue to create a vibrant and valuable ongoing market area in McBride.