By Korie Marshall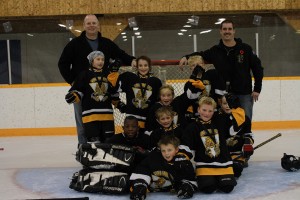 Brady Knezacek, president of McBride Minor Hockey, says there are only 26 kids registered this year, which is only enough for a full bantam team – the other age groups have to travel to Valemount to join up with their teams for some game action. McBride Minor Hockey is aiming to get some younger kids involved who will hopefully stay and play in McBride for a few years, and to help encourage that, they are offering a $50 enrolment fee (usually $200) and a full set of hockey gear for free. The gear will be purchased locally to fit the player; they already have an account set up at the Home Hardware.
Knezacek says it's almost too late to get new people interested this year, and they plan to really blitz the idea over next summer, but they thought getting the news out now would get people interested. Already, residents and businesses have donated funds, including $500 from a grant-in-aid from the Village of McBride, $1000 from ScotiaBank's hockey program, along with water bottles and toques, and Knezacek says he's just heard that they have received a cheque from the Royal Purple and Elks for $4,100, totalling over $6,000 so far.
Hockey can be an expensive sport, Knezacek says. Gear costs between $250 and $500, depending on a player's age and size, and kids need bigger gear as they grow. He says it's not really feasible for the organization to continue to provide free gear, and it is harder to buy for the older kids, but the hope is that if they get kids interested, and families committed, they will continue with the sport. "We are trying to get them hooked young," he says.
Parents will still be required to commit to 20 hours of volunteer time throughout the season, such as running the concession and the $50 enrolment fee will cover the child's insurance.
Knezacek says they have heard rumors that four to six young children may join this year. He encourages any family that is interested to come to the rink during practice, which starts at 6pm on Mondays and Wednesdays, and at 7pm on Tuesdays and Thursdays, and talk to people, see what it's all about. People can also call him at 250-569-4429.