Crews maintaining the Trans Mountain pipeline between Valemount and Blue River had to stop work at two separate creek crossings; at one because of fish, and at the other because of higher than expected water levels.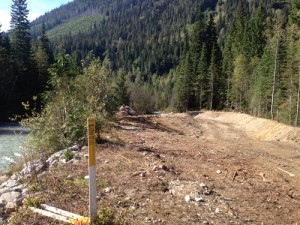 At Moonbeam Creek, on Highway 5 close to Blue River, bull trout were found. Jason Turner, Kinder Morgan's Environmental Health and Safety Coordinator told the Goat that their environmental assessment for the project had identified that fish may be present. When fish were spotted, work was stopped, as their plan had laid out, and will not resume until approval is received from both the Department of Fisheries and Oceans and from the Ministry of Forests, Lands and Natural Resource Operations
Turner says the work is part of Kinder Morgan's ongoing pipeline integrity and maintenance program, and the environmental assessment for the creek crossing work was in place last year.
Pipelines are buried and protected under a certain "depth-of-cover" says Turner – a certain thickness of soil and other material that protects the pipeline from damage and corrosion from the outside. In creeks, this depth can be eroded over time by the strong scouring action of the water. Turner says that part of Kinder Morgan's ongoing maintenance is dealing with natural hazards like creek and river crossings which are inspected periodically and recorded in a database. They not only look at the crossing, but what is happening upstream as well, checking if the watershed is full of debris and what might come down. Turner says when the erosion of that depth-of-cover warrants repairs, Hydrogeomorphologists will assess the risk and the topography, and a design to rebuild and protect the pipeline's depth-of-cover will be engineered.
Then, Turner says, the environmental assessment has to be done and approved by the federal and provincial agencies before any work can start.
Turner says the assessment looks at fish and other wildlife in the area, archaeological concerns, vegetation and soil, identifying the total construction footprint of the project, and coming up with a strategy to minimize impact and return the area to as close to the state it was before the work.
Machines are not normally allowed to work in flowing watercourses, and Turner says one major reason is because it causes turbidity of the water. Turbidity is the amount of particles suspended in the water, and according to the United States Environmental Protection Agency, high turbidity can increase water temperatures and reduce the available dissolved oxygen and the potential for photosynthesis. The suspended particles can also clog the gills of fish, which affects their growth and resistance to disease.
Turner says equipment may be allowed to work in flowing water in certain cases, where local geology or conditions do not allow for other construction techniques. In the past, during initial construction of a new pipeline, an "open cut" or a trench might have been dug while the water is flowing and the pipe placed in the trench, but these days, Turner says this would only occur as a last resort, and only if environmental studies indicate minimal or no impact to fish or fish habitat. At both Thunder and Moonbeam, Turner says there is no need to expose the existing pipeline, but different strategies are being used to rebuild and maintain the protective depth-of-cover.
At Moonbeam, there is currently sufficient depth-of-cover, but a wooden weir downstream, which helps keep the depth-of-cover in place, does not allow fish to pass. Turner says Kinder Morgan is working to buttress the weir with rock in a way that will allow fish to pass, and do some repairs to the weir at the same time.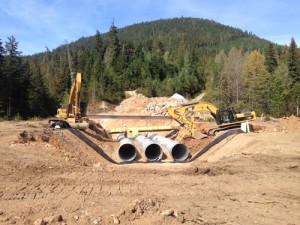 At Thunder, Turner says that some of the depth-of-cover has eroded away, but simply installing material on top of the pipe would leave a bump, since other material in the creek has washed away as well. Turner says Kinder Morgan is planning to build riprap "keys" (sloped rock structures, designed to absorb the energy of the water, that turn into a natural bank to prevent scouring of the edges of the structure) both upstream and downstream of the pipeline, that will all be held together with a grout. Turner says this large structure will protect the new depth-of-cover and the pipeline from scouring, without impacting the potential movement of fish in the area.
Turner says to do this work with the least impact to the watercourse and fish, their approved plan is to temporarily divert the flow of water, do the work in the relative dry, and then let the water flow its normal course again. The best time to do work with the least impact for the fish is midsummer says Turner, but it's not possible to divert a creek that is glacier-fed in midsummer, because the water level is too high. So Turner says they got a work window variance from agencies from DFO and FLNRO to complete instream work in the fall.
Now, for Moonbeam, Kinder Morgan is waiting for authorization from DFO and FLNRO on whether they can continue. Turner says they have submitted some options to these two including possibly moving the fish to a safe spot further up or downstream until their work is complete. If none of their options are approved, Kinder Morgan will have to leave the work unfinished for this year, and come up with another plan.
At Thunder, Turner says work waits until the water level in the river is low enough to safely switch flow into the temporary diversion channel. Kinder Morgan expects that may happen in the next week or two.
Kinder Morgan's lead contractor for pipeline integrity work on the Trans Mountain pipeline between Mt Robson and Barriere is Simpcw Reources.
General Manager Sam Phillips says that Simpcw First Nation is keen to keep money in the local economy and they try to hire local wherever they can.
"We have got some groups working for us out of Valemount right now, for sand and gravel," says Phillips.
Phillips says they hired a number of groups out of Valemount, Barriere and Clearwater when Kinder Morgan did the twinning project a few years ago through Mount Robson Park.
"We try to hire local as much as we can," Phillips says.
He says it is not always possible, because the safety certifications and insurance required may make it prohibitive to small local companies to do a short job. Many of these "natural hazard" projects are very equipment intensive, short term and can be delayed, as we see with Moonbeam and Thunder right now. Also, Phillips notes that he sometimes may not know who is available, with what equipment, but one of the reasons he is on the Dunster Community Forest Board, on his own time, it to contribute and get to know the communities.
By Korie Marshall