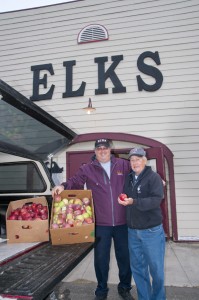 Generous orchard owners sent 17,000 pounds of apples and pears to communities across the north this past week to feed people in need, including people in McBride and Valemount.
The McBride Elks club received 1000 pounds of apples. The McBride Elks distributed apples to the local food bank, schools and Beaverview Lodge. McBride students presented Thibault with a giant thank you card made and signed by many.
Ken Thibault, an orchard-owner from Osoyoos who has made the trek for nine years, happened to meet Dorthe Flauer as he was passing through Valemount on his way back from the drop-off and she said the local food bank would be interested in receiving fruit next year. When he returned home, Thibault phoned Flauer to say he had found more apples – 1,000 pounds to be exact. They arranged with Liberty Transport to deliver the haul this week.
On Tuesday morning, the truck arrived full of fruit and volunteers helped to unload. Mark Vriend from Lordco used his forklift to remove the apples off the truck. Peter Felmark who happened to see what was happening gave his SUV to the cause, loading box after box of apples into the back to transport them to the food bank.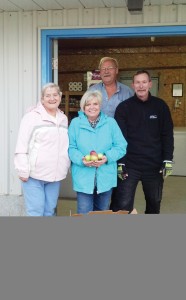 Jack Gold from the St. Vincent de Paul Society shared with Flauer that this initiative started with a previous volunteer with the society who moved to southern BC after buying an orchard. She was a dedicated volunteer who provided many services at the society and was committed to making a difference in Prince George and surrounding areas; thus the Apple Program was created. The program has grown to providing apples to over 16 remote communities in the Northern BC interior.
"I'm so impressed with how communities come together and make a difference for others," Flauer says.
The Valemount Food Bank is partnering with the Valemount Legion to make pies with the apples and sell them.
Food bank coordinator Dorothy Jones is recruiting volunteer 'community bakers' to receive two to four pounds of apples to bake and prepare oven/freezer ready apple pies that will be sold at the Valemount Legion on Friday nights during their weekly supper until Christmas. The legion is also having a soup and sandwich on Saturday.The proceeds will be shared between the Legion and the Food bank as a fund raising initiative for both organizations.