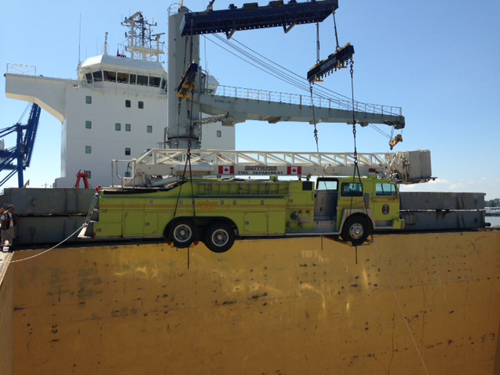 In June, volunteers working with Firefighters Without Borders moved donated fire trucks and equipment – including old turnout gear from McBride – from northern areas of BC to Vancouver to be donated to Peru.
High standards in Canada for protective gear for firefighters mean that potentially useful equipment can no longer be used here. Instead of sending that equipment to a landfill, Firefighters Without Borders collects and delivers it to countries in need.
Fire Chief David Hruby of the McBride District Volunteer Fire Department told the Goat that in BC, turnout gear (personal protective equipment) has an expiry date of 10 years. Throughout the year, expired but still serviceable equipment is gathered and boxed up. This spring, Melanie Perrin, Fire Services Coordinator for the Regional District of Fraser – Fort George and representatives for Firefighters Without Borders Canada, collected firefighting equipment from around the Prince George area – enough to fill a 14 ft cube van – to add to a shipment of donated fire trucks from Smithers and Kitimat.
Volunteers involved in the project, from Vancouver, Kelowna and Summerland, traveled at their own expense to move the trucks and equipment to Vancouver. The cost of transporting the vehicles (like fuel and insurance) was funded by donations made to Firefighters Without Borders Canada, and U-Haul assisted with some of the cost of the truck rental for the gear. Firefighters Without Borders Canada is supported by GearBulk Shipping, Pangea Logistics and ACGI Shipping to make it possible to send the apparatus and equipment to countries in need.
The Cuerpo General de Bomberos Voluntarios del Peru (CGBVP) is an all volunteer National Fire Service serving the over 29 million citizens of Peru. There are approximately 10,000 male and female Bomberos protecting the citizens and property of Peru from 196 fire stations. While the country moves forward with a booming economy, the Fire Service is also trying to modernize with their main emphasis being on improved training and equipment. Over the past two years, FWB Canada has donated three apparatus, hundreds of sets of turnout gear, SCBA's and tons of other firefighting equipment to Peru. The Peruvian Fire Service have expressed their gratitude for these donations and quickly become proficient in the use of these donated items and quickly put them into service in the communities they serve.
Firefighters Without Borders Canada (www.fwbcanada.ca) is a registered charity in Vancouver BC. What began as a group of dedicated firefighters in 2008 as Engines for El Salvador, then became Firefighters Without Borders BC and finally Firefighters Without Borders Canada. The mission of the group is to collect outdated firefighting apparatus and equipment and donate it to countries where there is a need. Since 2008, the group has donated 13 fire trucks, over 1000 sets of turnout gear, over 400 breathing apparatus and over 20 tons of equipment valued at over $2 million to Belize, Cebu Philippines, The Congo, El Salvador, Mexico, Paraguay, Peru and Thailand. Also in that time they have deployed on training missions to El Salvador- 5 times; Paraguay- 4 times; Peru- 4 times and once each to Panama and Thailand. The main emphasis on these deployments is to deliver training. Firefighters from all over B.C. have participated in the training, using their own vacation time and paying their own airfares to participate.
By: Korie Marshall