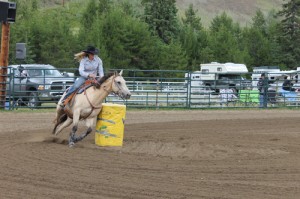 Canoe Mountain Rodeo had a good showing of locals in the stands this weekend, and in the fifteen BC Rodeo Association sanctioned events.
Saturday offered non-stop action from 1pm to well after 7 pm. Local riders included Kelsey Griffin competing in the Ladies Barrel Racing, Alissa Byford competing in Junior Barrel Racing, and Madison Smith and Taleigha Tinsley Dawson both competing in the Pee Wee Barrel Racing. Madison Smith also competed in Pee Wee Pole Bending.
The Duncan Girls beat Snowfarmers in a demonstration Pack Horse Race on Saturday, and Snowfarmers tailed again on Sunday against the Burstrom/Cardinal team, amidst good natured ribbing from the announcer.
The rain let up in time for the action to start on Sunday, with Terri Pallagi of McBride competing in the Saddle Bronc Riding and Stacy Duncan competing in Ladies Barrel Racing.
Contestants came from as far away as Chilliwack, Osoyoos, Quesnel and Vanderhoof, some even traveling through the weekend to participate in the Pritchard Rodeo as well as Valemount. One contestant, Steve Hohmann of Quesnel, competed in 5 events on Sunday with a broken cheek and jaw (injuries sustained 5 weeks ago at another rodeo, when a bull landed on him). He was the only rider to go the 8 seconds on a Bronc on Sunday.
Chinook Riders, a youth Drill Team from Hinton provided the Grand Entry and Intermission shows.
Story and photos by: Korie Marshall
This slideshow requires JavaScript.