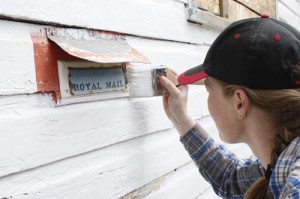 Residents of Dunster took advantage of a warm dry Saturday to scrape and put a new layer of paint on the Dunster Store.
Established in 1918, the store sells groceries, gas, feed, housewares, hardware, and just about anything else locals may need. The current building was a feed warehouse built in 1945 by Robert Haan, and was converted to the present-day store in the 1950s after the original building burned in 1954. While the mail no longer comes on the train, the store continues to serve as a place for neighbours to meet, visit, and exchange news while shopping or picking up their mail.
Visitors to the community will also find t-shirts, postcards, and a selection of local goods (from fresh produce in season to books and CDs produced by residents to various craft items). The store also sells coffee by the cup, sausage rolls and samosas baked fresh daily and places regular bulk orders of organic/natural foods on behalf of anyone in the valley.
By Laura Keil
This slideshow requires JavaScript.