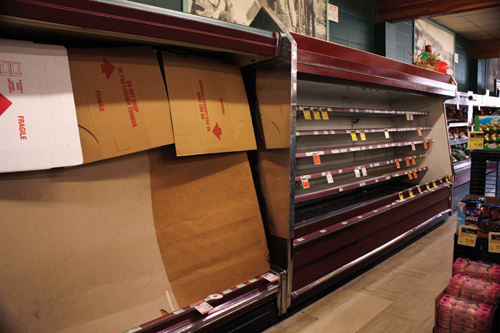 Monday morning, IGA staff were busy making the best of it after a fire shorted out the front coolers in the store the day before.
Staff moved all the perishables from up front to the back coolers to keep them safe, but those items were still available to customers.
IGA manager Mike Simms says if anyone needed a perishable item in the back coolers they would go and get it for them.
Meanwhile they cleaned out some of the front coolers, taking advantage of the time they were empty.
The electrical fire happened around 2:30 Sunday afternoon. The Valemount Volunteer Fire Department arrived and extinguished the blaze which was on a sub-panel in the compressor room, assistant Fire Chief Dean Schneider said.
Fortunately it was during work hours.
"It's fortunate it happened when we were open, otherwise we probably would have had a lot of smoke damage," Simms says. "It probably would have flared up and who knows how far it would have gone."
The electrician was there until midnight Sunday, but he had another job commitment on Monday. He returned when he finished his other job, and the store was up and running Tuesday morning.
The IGA building was built in 1970 as the new Mortenson's Store. Simms says the cause of the fire could have just been an old wire.