Elected officials will be considering whether Horseshoe Lake Recreation Property can remain a maintained picnic and bird watching area.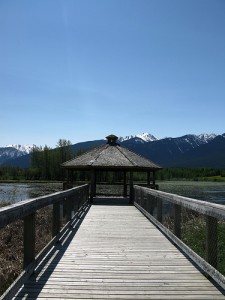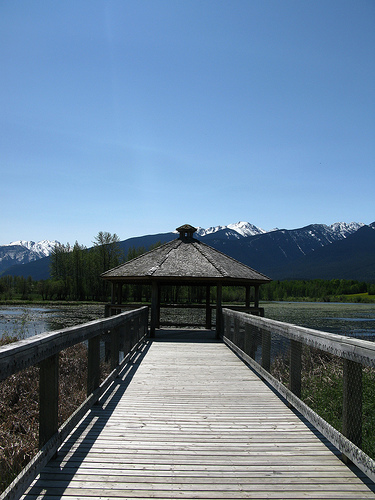 The Regional District of Fraser Fort George is considering at its March 21st meeting whether to renew a 10-year term licence of occupation from the Province for an area commonly known as Horseshoe Lake Recreational Property. If they renew the license, they will still need to find a non-profit group to manage it – something they have not had since 2008, when the McBride Chamber of Commerce decided it could no longer manage the area.
The recreational property is valued as a local picnic and bird-watching site by residents and tourists. Right now, it is signed by the Regional District as "Closed and Unmaintained" for liability reasons.
A report to the Board says that from 1991 to 2008 the McBride and District Chamber of Commerce managed the property by way of a property use agreement with the Regional District. During this time a boardwalk and gazebo/observation shelter were constructed and a picnic table placed for the enjoyment of local residents and tourists. In 2008, the Chamber advised that they could no longer manage the property and a search was undertaken to find another non-profit community group interested in assuming the operation and management of the property. The Local Government Act specifies that the Regional District may only enter into agreements with non-profit organizations for the operation and management of public recreational properties. To date, no non-profit groups have expressed an interest, the report to the board says.
The report goes on to say that another search is underway to find a non-profit community group interested in operating and managing the property. The non-profit society would then incur the costs of retention (including liability insurance) and maintenance (including upkeep of the improvements, garbage removal, grass cutting, etc.). Should that search prove unsuccessful, the property may be considered for inclusion in the Regional Parks Plan, in which case the cost of retention and maintenance would become the responsibility of the Regional Parks budget.
If the Board approves the recommendations to take on the licence of occupation renewal, the regional district will continue to seek out a non-profit community group interested in assuming the operation and management of the property. If the board does not approve the recommendation, the property will revert to the Crown and the removal of the existing improvements (boardwalk, gazebo) may be required. In this case, McBride area residents and tourists will no longer have the benefit of this recreational property. The board may also postpone the decision pending more information. However, the existing renewal tenure offer will expire April 12, 2013 and the Regional District would be required to complete a new tenure application process from the beginning in order to obtain a new tenure for the property.
Laura Keil