The iconic Kiwa coffee cup was a landmark on Dogwood St. for close to a decade before it was smashed last weekend.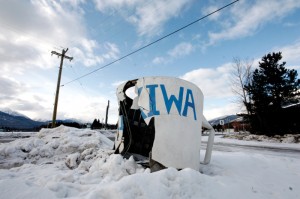 Someone reportedly stole a tow truck from a driveway and smashed into the cup before deserting the vehicle.
Property owner Marion Farquharson said her son-in-law Stuart Ives built the cup for the Valemountain Days parade about 10 years ago.
The cup was part of the winning float for the coffee shop that used to exist in the Kiwa building.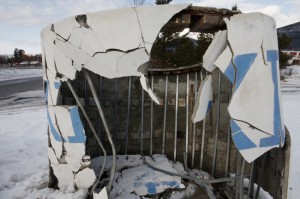 After the parade, the cup found a permanent spot in front of the coffee shop, which closed down in 2010.
New business owners plan to re-open a coffee shop at that location and had planned to get youth to re-paint it.
Farquharson says the collision may have been on purpose given the direct path the tow truck took.
"It's quite sad to see it gone."