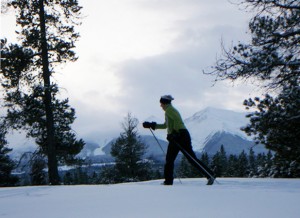 By: John Kenkel
RMG student reporter
When winter comes it is hard to stay active and fit because of the large amount of snow and ice outside. There aren't many options when it comes to indoor activities, so one has to choose a fun activity outside that will get your heart pumping.
Cross country skiing is easy enough that beginners can pick up the technique in a short amount of time and it is one of the highest calorie burning sports.
There are lots of places that you can cross country ski in and around Valemount. There are some areas that are quite obvious and others more hidden.
Jackman Flats is a perfect cross country ski area that is out in the open, and is very easy to find. You can get there by taking Hwy 5 about 12 km north of Valemount. There is a parking lot that is plowed, and there is a sign with all the trail information.
There are several different loops in Jackman Flats. They range in length from 1.4 km to 6.2 Km. The largest loop should be taken with caution, as it is very hilly, and can cause problems for beginners. There are spectacular views on clear days when the mountains are visible. Jackman Flats can provide hours of cross country skiing for the whole family and any level of skier.
Camp Creek is another popular area for cross country skiing, but it is more difficult to find. You can get there by driving 11 km south of Valemount on highway five. The access road is located on the east side of the highway, and it is 2.5 km long, but it is only plowed on a low priority basis, so there is often snow on the road. This area is loved by locals, because it often gets sufficient snow earlier than the rest of the valley, because of its location at the base of Canoe Mountain. The area also features services, like a small shelter, a cabin to warm up inside, and pit toilets.
These aren't the only places to cross country ski however, there are many hidden trails and areas that local cross country skiers know about.
According to local ski enthusiast Peggy Hubley, one of the best places to cross country ski, is at the end of Crown Road in Tete Jaune. If you're headed to Tete Jaune from Valemount on Blackman Rd, take a left onto Mica Road, and finally turn onto Crown Road. The road is a dead end, but that is when the fun begins. If you follow the trail at the end of the road, it will bring you to a beautiful marsh with scenic views.
"The best experience you can get out of this trail is skiing in the moonlight, as the views are breathtaking at night" said Hubley. But take care not to get lost in this backcountry experience, as the trail is not groomed!
Another local favourite, is the Kinney Lake Trail. This trail's main perk is the large amount if free parking space at the bottom of the trail. The trail itself is quite steep, and takes a lot of stamina to make it up. Coming down, you can pick up a lot of speed. The trail isn't used as frequently in the winter, but you still have to watch out for hikers and other skiers on the way down.
Cross country skiing in Valemount and surrounding area is not only a great family activity, but it is also a great way to stay fit and active during the bitter cold winter months.