Four new power projects are being investigated along Kinbasket Lake south of Valemount.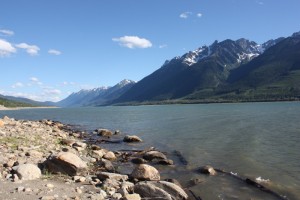 According to preliminary estimates, the four projects could bring more than 100MW of generating capacity to the grid by 2025. Three of the projects would require a new transmission line to connect to the sub-station in Valemount.
Winnipeg-based Sequoia Energy Inc. is investigating three IPPs clustered some 10-25km down the lake on Yellowjacket Creek, Dave Henry Creek and Bulldog Creek. These would create an estimated 47 GWhr/yr of power according to the company's preliminary application to the Ministry of Forests, Lands and Natural Resource Operations.
That amount of energy would power approx. 4273 homes per year, based on average energy consumption.
Company spokesperson and co-founder, Bob Spensley, says Sequoia inherited the project when they acquired the assets of Calgary-based renewable energy company C-Free Power Corp.
Spensley says their estimates of potential power on the creeks are not based on scientific data at this point, and they will require permits from the Province in order to determine whether IPPs at those sites will be feasible.
"It's so preliminary we don't even have stream flow gauges to study the flow of the water."
They need the investigative use license to even bother looking at the feasibility, Spensley says.
He says it's too early to say how the IPPs could affect Valemount's power.
"It's way premature to say; we haven't done any transmission line studies."
Sequoia's largest project at the moment is the construction of a run-of-river 22 MW project on Jamie Creek near Lilooet.
BC Hydro spokesperson Jennifer Walker-Larsen says it's too early to know what impact the Sequoia IPPs would have on Valemount's power supply. She noted, however, that the existing Hystad Creek IPP provides backup power to downtown Valemount when water is flowing in the creek.
Because the IPPs are based on hydro they would thus only supply power to the grid for part of the year. That said, depending on the set up, a secondary source of power could add reliability to Valemount's power.
She said after the proponents do their preliminary environmental work they can talk to BC Hydro about what may be required to link up to the substation, and whether any further upgrades may be needed to handle the additional capacity.
Yellowjacket is estimated to be the largest energy producer of Sequoia's three projects, creating an estimated 22 GWhr/yr from a 6.6MW generating station. The energy would power approx. 2000 homes.
Preliminary data shows access to the intake and powerhouse from this existing road will require two short new gravel roads totaling approximately 4500m. The company may build a 3,000m penstock starting at 1km of elevation.
Bulldog Creek, a few kilometres away, is estimated to create 15.25GWhr/yr of energy from a 5MW plant, or power for 1386 homes.
Dave Henry Creek is anticipated to produce some 9.77 GWhr/yr from a 3.2MW operation or power for 888 homes. A16.2km 25kV transmission line would connect to BC Hydro's substation near Valemount.
The fourth IPP is closer to Revelstoke, near Mica Dam and is proposed by Trans Alta. They plan to connect to Mica Dam, not to Valemount.
Walker-Larsen notes that most transmission lines offer the possibility of use by other IPPs. A 10MW geothermal energy plant proposed by Borealis GeoPower is being investigated in the same area as the Sequoia projects. Borealis is still in the preliminary development stage, but has offered to sell the Village of Valemount waste heat from the project if it goes through.
Laura Keil