The BC Government is asking for stakeholder feedback on the Formal Proposal from Valemount Glacier Destinations Inc.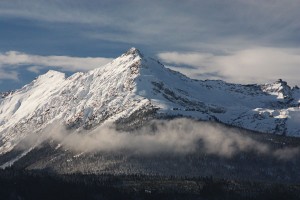 The formal proposal is for a year-round glacier skiing and high-alpine sightseeing destination resort with lift access, located west of Valemount in the Premier Range. The lead proponent is Oberto Oberti, a Vancouver-based architect.
Under the All Seasons Resort Policy, the province must collect feedback from stakeholders on the use of the land, after the formal proposal is presented. The feedback form includes questions such as whether the stakeholder has specific interests within or adjacent to the study area, whether existing land uses preclude development of a four-season resort. The form also asks whether the stakeholder has any specific concerns, comments or objections with respect to the province issuing an interim agreement and licence of occupation with the proponent. These last two would allow the proponent to prepare a Resort Master Plan and for the government to proceed with the Master Plan Review Process.
The proposal area under investigation covers about 16,000 ha, which is located in the Premier Range west of the Village of Valemount. The BC government referral letter notes the area includes a range of existing interests, both public and private. Previous comments already received by the Resort Branch will be "tracked and further assessed in the review process," if they have not already been addressed in the Formal Proposal.
The feedback from the Formal Proposal referral will help shape the Province's decision to issue an Interim Agreement and further phases of the application process, the letter says.
Following the Formal Proposal referral period and after the government reviews the information, the Resort Development Branch will consider issuing an Interim Agreement. The interim agreement is "a legal contract between the province and the proponent which provides a Licence of Occupation to the proponent for the purpose of entering onto the land to conduct studies, investigations, data collection activities, etc. necessary for the preparation of the Resort Master Plan and the Master Plan Review Process." The Interim Agreement is issued for a five year term and is a non-exclusive tenure. The tenure legally entitles the proponent and its representatives to occupy the land but no permanent structures or improvements may be placed on the land.
If an interim agreement is reached, the Master Planning of the mountain resort can begin, according to the province's Mountain Resorts Policy. This will refine the concept and the formal proposal. Any issues identified during previous reviews must be rectified within the Master Plan.
As stated in the Mountain Resorts Policy: "The final Resort Master Plan document will act as the reference point from which the Master Development Agreement and all other approvals, permits and tenure will be based."
The deadline for feedback is December 10, 2012. The government could be in a position to issue an interim agreement just one year from the date the proponent submitted its expression of interest.