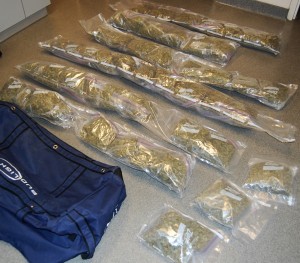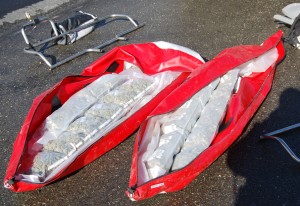 Stashes of marijuana, hash and Percocet pills were some of the items seized by Valemount RCMP during a recent highway safety initiative.
From Oct. 16th to Oct 18th, the Valemount RCMP closely monitored traffic on Highway 5 and Highway 16. The three day campaign resulted in 238 violation tickets being issued, vehicles impounded as well as a substantial amount of drugs and money being seized said Cst. Ryan Walker of the Valemount RCMP.
The RCMP also laid 28 suspensions and charges, including making one arrest.
During the three-day initiative, RCMP located 25 lbs of marijuana in a large hockey bag. The driver of the vehicle was prohibited from operating a motor vehicle and was also in breach of a number of conditions. The 27-year-old Alberta male was arrested and held in custody then later released by a Justice of the Peace.
A 46-year-old male from McLeese Lake B.C. is facing drug trafficking charges after RCMP located marijuana, some hash and approximately $13,000 in cash inside his vehicle.
Police also located 11 lbs of marijuana concealed in the pontoons of an inflatable fishing boat. A 32-year-old male from Williams Lake B.C. is facing charges of Possession of a Controlled Substance for the Purpose of Trafficking. He was released on a Promise to Appear in court on a later date. (Click on photos for larger images)
The driver of a commercial transport truck was issued a 24-hour driving suspension due to drug impairment. The driver admitted to smoking marijuana as well as taking the pain killer drug, Percocet. RCMP seized marijuana and three bottles of Percocet pills that were not prescribed to the driver. He is now facing drug related charges in relation to the incident.
Violation Tickets Issued
Moving – 21
Non Moving – 33
Warnings – 31
Notice and Orders – 41
Vehicle Impoundments – 13
Driving Suspensions and Charges
24 Hour Driving Suspensions Impaired by Drug – 10
Drug Seizures – 15
Prohibited Driver – 1
Breach of Conditional Sentence Order – 1
Unendorsed Warrant – 1 Male Arrested from Salmon Arm B.C.
Commercial Vehicles
Violation Tickets – 36
Notice and Orders – 48
Out of Service Due to Defective vehicle – 15
RCMP say the goal of the safety campaign was to heighten public awareness, identify and detect impaired drivers, increase seat belt compliance and ensure all vehicles traveling on the highway were safe and road worthy.
A number of partnering agencies from all over British Columbia participated in the Traffic Safety Campaign. These agencies include:
Robson Valley Regional Police Services (Valemount/McBride RCMP)
Commercial Vehicle Safety Enforcement – Tete Jaune and Prince George
North District Traffic Services (IRSU) – Prince George
South East Traffic Services – Clearwater
Ministry of Forests, Lands and Natural Resource Operations
Department of Fisheries and Oceans
Department of Natural Resources
Provincial Traffic Services – Vancouver Island/Lower Mainland