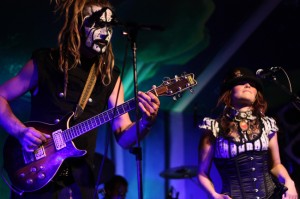 Robson Valley Music Festival heats up Dunster, BC this weekend August 17-19 2012.
Founders and organizers Shara Gustafson and Seth MacDonald say they are planning to host at least 1000 people on their property near the Fraser River in Dunster Aug. 17-19th.
Gustafson says they are planning for "More of the awesomeness."
The stage for instance, will be powered entirely with biodiesel made on their property. MacDonald has been selling biodiesel to local farmers and anyone interested at the Dunster Store and directly from his property.
They are still figuring out the details, but plan to have a biodiesel shuttle that runs along River Rd from the festival site to the field near the Dunster Bridge. The shuttle would run during the day and evening. They are offering an expanded camping area for performers and volunteers as well as more parking.
Some of the performers include the Ball Gag and Chain Gang, out of Victoria who play "Ho Tonk." They have are described as a "five-piece juggernaut of sound; a musical sideshow like no other. With horns, lap steels, didgeridoo, banjo, and three lead vocals."
Donné Roberts from Madagascar was part of African guitar summit and an incredible performer, Gustafson said.
Don Alder won a number of finger picking championships. He is one of world's best guitar players. He recently won the international guitar idol, even after his guitar got smashed on plane and he duct taped it together.
The furthest to travel is Liron Man who is from Spain. He plays instruments such as Mandolin, Bouzouki, Nai Flute and percussives and an instrument called the Hang.
"He is amazing, a master hang player." Gustafson says. "It's like a spaceship instrument."
Yancarlos Sanchez beat boxes and plays horns while he plays keyboard.
They have a troupe of burlesque dancers, Flamenco Dancers, and a puppet company for the kids. Gustafson and Macdonald's band Mamaguroove will also play.
The Festival launched in 2005. Seth and Shara MacDonald and friends and family decided to turn what was supposed to be a small gathering into a full fledged festival. They ran all details themselves on a non-existent budget, counting on ticket sales at the gate to pull them through. Everything from stage sound and lighting to security to the cuisine for performers was provided by the family with help from a handful of travelers and close friends. Bands all agreed to donate their performance services in exchange for unequaled hospitality and good times. While exhausting, the result was an intimate close gathering celebrating local, regional and international talent and "linking our remote, rural community to the wider world of performance art."

"A spirit of fellowship and excitement" ensued which had been missing for a long time in the community. Organizers founded The Robson Valley Music Society to keep it going. The festival holds onto an intimate feel in a pristine setting near the Fraser River, where salmon kick upstream at this time of year to spawn.
Tickets can still be purchased. To buy tickets, visit their website: http://www.robsonvalleymusicfestivalbc.com
Download a pdf of the weekend's schedule here
ROBSON VALLEY MUSIC FESTIVAL Schedule 2012
* Denotes Andy Jones Stage
FRIDAY
5:45 Keith & Jane
6:00 *Doug Koyama
6:15 Blue Syntax
7:00 * Sam Heine
7:30 Miss Quincy
8:30 * Andrew Scott
9:00 High Society
10:00 * Shawn Stephenson
10:30 Ball Gag N Chain Gang
11:30 * Yancarlos Sanchez
12:00 Zahira Belly Dancers
12:10 Tequila Mockingbird Orchestra
SATURDAY
11:00 * Jos & Joan
11:30 Andrew Scott
12:15 * Jordan Leach
12:45 Allen & Alexander
1:30 * Aaron Scott
2:00 Adrian Glynn
2:45 * Shawn Stephenson
3:15 Navaz
4:00 * The Lovely Bones (Seth & Shara)
4:30 Don Alder
5:15 *Emma
5:30 Valley's Got Talent with Bismuth, Charlie Staniforth, Saeda Rose, Cassidy Braun & More
7:00 Stephanie Pedraza
7:45 * Niska Napoleon
8:15 My Favorite Tragedy
9:00 * Yancarlos Sanchez
9:30 Donne Roberts
10:30* Liron Man
11:00 Mamaguroove
11:45* Vibe Tribe/ Belly Dancers
12:15 Bottoms Up Barely Burlesque
12:40 * TBA
1:00 Kytami
SUNDAY
11:30 Morning Glory with Pam Moul
12:00 * Carmen Mutschele
12:30 Moonshine Marmalade
1:15 * Ellise Bressette
1:45 Tequila Mockingbird Orchestra
2:30 * Niska Napoleon
3:00 Folky Strum Strum
3:45* Liron Man
4:15 Ball Gag n Chain Gang
4:45 * Miss Quincy
5:15 Donne Roberts /Kytami/All Stars