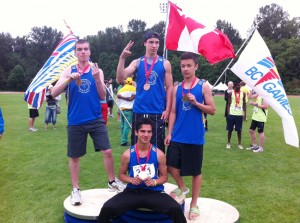 Valemount's Omar Medina achieved his dream of gold in long jump at the BC Summer Games last week.
Medina has been competing in long jump and 100m and 200m races this past year. At the Summer Games, he beat all his previous jumps, just falling short of the long jump record for his age category. He jumped 5m 95cm at his furthest jump. The record, set by a boy a year older and a foot taller is 6m54cm.
Medina says he'll be focussing on building muscle this year to improve his performance for next year.
"I know that I'm up there with everyone else. Everyone my age is really close. There's not some guy way ahead or way behind."
Medina struggled with a tight muscle which he had to tend to between each jump. He describes the injury as being very painful. He had to visit a physiotherapist right after the competition.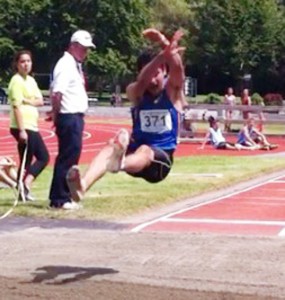 However his hamstring injury from the spring is better now.
Before the Summer Games, he says he went out for runs, but he didn't sprint before hitting the track again two days before the competition. He says he had to get back into the mindset of running on track instead of mountain, rocks and grass.
The Prince George track and field team came home with four medals in total. The 4×100 m relay team got bronze and another girl won a bronze medal in high jump.
Medina will be back in Valemount soon and training on the cross-country team in Valemount during the off-season.