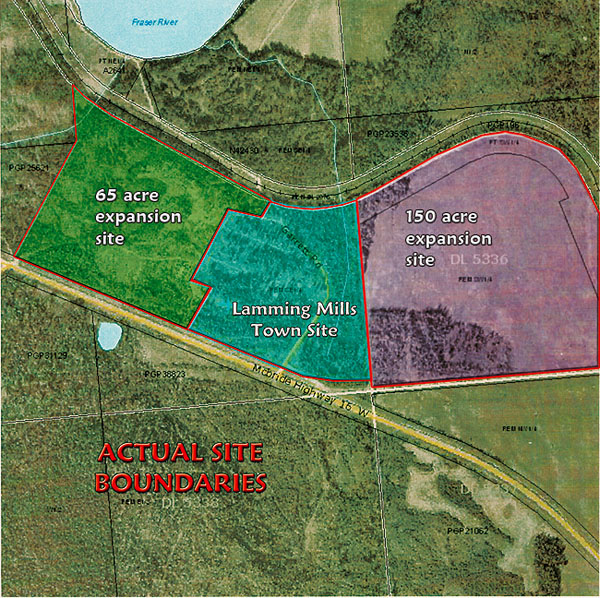 ecoTECH Energy Group, Inc. is "optimistic" they will receive approvals for their proposed McBride project, even though timelines for their developments have been pushed back.
The company has not broken ground in any of their proposed projects in Canada, the US or South America, according to the company's annual report released in April.
"Due to Government and financing delays, we have no finalized agreements and have not been able to commence construction on any of our projects at this time" the report says.
In response to our questions, ecoTECH Energy Group CEO Colin Hall said to refer all questions to the Minister of Jobs, Tourism and Innovation.
"I am not at liberty to disclose anything on the McBride project at all until the McBride Community has heard from them on the matter."
He says until then "all initiatives are on hold."
"Certain timelines were promised and we are bound to allow them to fulfill the promise of announcements for the plan for all of the communities in the Robson/Thompson Valleys. Once their position is clear, we will gladly share our plans or changes to the programs we had placed."
ecoTECH is currently awaiting an Energy Purchase Agreement (EPA) for the construction and operation of a $78 million, 24 megawatts per hour bio-mass power plant and a $52 million 138 kilovolt power-line to McBride.
The electric power produced would be sold to BC Hydro under a pending Energy Purchase Agreement.
Hall says they are awaiting a plan from the Ministry of Jobs, Tourism and Innovation that was supposed to be announced Jan. 16th at the Barriere-McBride Corridor economic development pilot project meeting held in Valemount.
The extension of the transmission grid to McBride was one of the topics discussed at the forum.
Over the past year, BC Hydro, the Village of McBride, and a number of generation developers including ecoTECH participated in the Robson Valley Task Force. The Task Force assessed opportunities to extend the transmission grid to McBride, as well as a number of scenarios for potential clean energy generation in the area from run of river hydro and bioenergy facilities.
This transmission extension is under consideration by the provincial government. A spokesperson from BC Hydro says they continue to support the province in its review of the opportunity.
The EPA has been delayed since September 2011 which ecoTECH says is primarily due to the BC government's review of BC Hydro's proposed 3-year rate increases. Now that the review is over, the company is optimistic that BC Hydro will issue an EPA for the McBride project, the report says.
Once the EPA has been received, additional land for the power plant will be purchased in the McBride area, and rights-of-ways established for the power-line, the report says.
The company hopes to build a combined self-contained $92 million Aquaponic Project, in addition to the power plant and power-line projects. ecoTECH has also developed a stand-alone Aquaponics project which combines a self-contained 5 megawatts per hour biomass power plant, together with a fresh fish farming (aqua-culture) and a greenhouse vegetables facility hydroponics) using 100% organic processes, the report says.
The Company announced in January it had entered into a 5-year supply purchase contract from one of Canada's largest supermarket chains, to purchase a minimum $12 million of organic fish and vegetables per year. Full commercial operations are projected to be $55 million per year.
With an additional capital investment, the report says the CHP facility could be increased by 36 megawatts per hour to produce a total of 60 megawatts per hour, the report says.
"This would allow BC Hydro the flexibility to balance the significantly variable electrical power that would be produced by run-of-the-river independent power production in the region," the report says.
Land has already been purchased by the Company, near McBride, which has the appropriate zoning and for which the company has obtained the necessary water permits. The company made a down payment of $50,000 on the land and the rest is owed under a mortgage with the seller.
According to their annual report, the Company is not current in servicing the mortgage note.
"We are working on a satisfactory resolution to bring the loan current," the report says. "The loss of this property would not have an adverse impact on (the company's) ability to operate in the region."
In October the company held a job fair promising to break ground in Spring 2012 where it collected dozens of resumes from job hopefuls.
The company has contracted out preliminary site clearing and subject to receiving project financing, "is in position to commence construction in the summer of 2012 with commercial operations projected for 2013," the report says.
Projects
Due to the drop in natural gas prices the company biomass proposal in Montana is not currently viable and they have deferred this project indefinitely.
Meanwhile in Ambato, Ecuador the company has been approached about a $6 million Garbage to Concrete (Garcrete) system, with additional orders expected to be received for five additional Garcrete systems for other locations in Ecuador, the report says.
An interior location is being sought by the Ecuador government for a 72 megawatts per hour W2E CHP (Waste to Energy Combined Heat and Power) facility. These facilities will use ecoTECH's ecoPHASER thermal gasification technology and will burn municipal waste in order to reduce the country's reliance on landfills.
The report notes that these projects have been delayed due to a pending review in Ecuador by the government in respect of local circumstances unrelated to Excelsior or to ecoTECH. The pending government review has delayed completion of final contracts.
According to the annual report, the company has several other projects in progress, though none in operation, including a 24-megawatt per hour bio-mass power plant project proposed for an operating gold mine in Fiji, a smaller aquaponics project in the lower mainland of BC, and a hybrid power/torrefaction facility for fiber export to Asia from Whitehall, Montana.
ecoTECH is now a registered supplier to the US Department of Defence and is awaiting a next stage procedure for the Fort Bliss – Net Zero Project, for which they are a bidding contractor under their current Request for Proposal.
The report says Lockheed Martin's M2 division has offered to be ecoTECH's Engineering Procurement and Construction (EPC) contractor on US projects, both for power and military base projects.
R&D
According to the annual report, the company recently signed an agreement with the Government of Alberta Agriculture and Rural Development Department food research arm at the Crop Diversification Centre (CDC) that allows the company to access "the aquaponics research and development carried out by CDC in the past number of years which includes hands on technical assistance from senior scientists from the facility on a per diem basis." ecoTECH is planning to use its technologies with those of CDC and "to integrate the business and technical solutions developed by HydroNov Inc. for their deep water raft technology in horticulture and recirculation aquaculture systems."
The company says it wishes to train its staff "with the assistance of highly skilled and experienced scientists and in the process integrate the technologies with the University of Alberta and New Caledonia College/UNBC."
However, the report notes that Torrefaction technologies are unproven on a large-scale commercial basis and performance could fail to meet projections, which could have "a detrimental effect on the long-term capital appreciation of their stock," the report says.
Wood Supply
The company's torrefied biomass energy products will be produced from woody biomass, and they currently have agreements for sufficient woody biomass to accommodate up to two plants. If these resources are affected by weather, governmental restraints, and other conditions, the report says the company could experience a shortage of raw material which would hinder operations.
New office
The Company leased office space in Langley, British Columbia, Canada. The office lease became effective on April 1, 2008 and was for a term of five years. Basic rent for the first three years was $4,794. Basic rent for the last two years increased to $5,113 per month. In addition to basic rent and taxes, the Company was responsible for varying operating expenses (HVAC, assessments, utilities and service charges, licenses and permits) as they arose.
The annual report says "due to delayed receipt of project approvals and sales deposits applicable to the Company's business plans, the office rent payments were in arrears prior to December 31, 2011. In 2012 the lessor was no longer willing to allow rent payments to be in arrears, resulting in the Company vacating the premises on March 1, 2012."
Financing
Being a development-stage company with no current projects, ecoTECH had no revenues or sales from November 28, 2007 through December 31, 2011.
In 2011 the company's total operating loss decreased to $4,880,606 compared to $19,268,682 for the years ended December 31, 2011 and 2010 respectively. The decrease is primarily due to the reduction in stock based compensation. Members of the executive have opted to take a large part of their pay in the form of company stock instead of money.
The annual report says the company may not be able to obtain the funding to manufacture construct and/or operate their planned facilities, "the failure of which could adversely affect their business, operations and financial condition."
The company is currently in discussions with potential sources of financing but no definitive agreements are in place. The company announced in February that they had secured $55 million in debt-financing from Corpfinance International Limited (CFI), but they have not received final approval.
CFI is partly owned by the Canada Life Assurance Company a subsidiary of The Great-West Life Assurance Company. CFI has previously provided financing for other successful power projects in British Columbia including Rutherford Creek, Furry Creek, McNair Creek, Zeballos Lake and Boston Bar as well as other BC Projects under construction.
ecoTECH received $155,724 in 2011 $513,508 in 2010 in net cash from the sale of its common stock. The money is being used for operating and general and administrative expenses to sustain the company through its development stage until it establishes profitable operations or receives cash from the issuance of additional common stock.
Net cash used in operating activities from November 2007 (inception) to December 31, 2011, was $1,849,781, consisting primarily of a net loss of $36,157,121 offset by expenses, depreciation and other accounting items.
Net cash used in operating activities decreased to $131,882 from $524,236 for the years ended December 31, 2011 and 2010 respectively. The decrease is primarily due to increases in accounts payable and accrued liabilities balances year over year.
Other risks
The company says non-stringent enforcement of environmental and energy policy regulations may adversely affect demand for renewable alternative energy sources such as those provided by the conversion of woody biomass.
The company notes that manufacturers of other sources of alternative energy (from wind, water, sun, etc.) are considered competitors.
"Our proposed torrefaction plants will compete with all of these competitors at varying levels," the report notes.
The annual report also brings up risks pertaining to Federal Regulations that encourage investment in green industries. The US Congress currently provides certain federal tax credits for alternative energy manufacturers, distributors, and end-users. The company notes those grants and tax incentives could expire or change which "could cause an erosion of the competitive strength of the biomass renewable energy industry."
The company notes its business initially depends on the continuation of these credits. The credits have supported a market for renewable energy sources (specifically biomass) that might disappear without the credits, the report says.
"These credits may not continue beyond their scheduled expiration date or, if they continue, the incentives may not be at the same level."
"The revocation or amendment of any one or more of these tax incentives could adversely affect the future use of biomass alternative energy in a material way, and we cannot assure investors that any of these tax incentives will be continued."
Company History
ecoTECH Energy Group (Canada), Inc. ("ecoTECH Canada") was incorporated under its original name of ecoPHASER Energy Corp., under the federal laws of Canada on November 28, 2007. ecoTECH Canada is a development-stage renewable energy company whose business focus is the manufacture, construction and/or operation of biomass-fuelled power stations that not only provide electrical power from biomass and/or waste, but that can be augmented with operational facilities that use waste energy from the power plants, including; torrefaction, aqua-culture, hydroponics, aquaponics, cold storage heat exchange technologies and other environmental processes.
On November 12, 2010, Sea2Sky acquired 100 percent of the issued and outstanding common stock of ecoTECH Canada for approximately 110 million shares of its own common stock, which were distributed to the former shareholders of the acquired ecoTECH Canada. ecoTECH Canada was then amalgamated with 7697112 Canada Corp., a company incorporated under the federal laws of Canada that was a wholly owned subsidiary of Sea2Sky, and as a result of this amalgamation, ecoTECH Canada became a wholly owned subsidiary of Sea2Sky. On December 20, 2010, Sea2Sky changed its name to ecoTECH Energy Group Inc. and changed its trading symbol to "ECTH".
Most information for this article was researched from ecoTECH Energy Group's 10K annual report released in March 2012.
[issuu width=420 height=200 backgroundColor=%23222222 documentId=120426013345-d1f90863d98f4ada8d02c691fa13f993 name=3.17combined3 username=laurakeil tag=goat unit=px v=2]