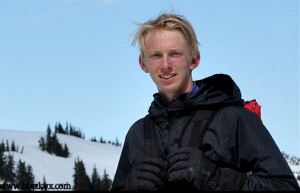 Linden Ladouceur, 16, of Dunster is the youngest sledder ever featured in
Jim Phelan's sledding stunt videos
, appearing in this year's Thunderstruck 10.
Ladouceur introduced himself to Phelan at the Edmonton snow show a couple of years ago. He came back again last year asking Phelan to watch his sledding video. Two months later, Ladouceur met Phelan's team for Thunderstruck10.
Linden has beensledding most of his life and rides a 2008 Arctic Cat M8 Sno Pro 153". When the filming day came, however, the weather was blustery. It was delayed and Ladouceur got the call the video was happening with just a day's notice.
"My dad and I left at 1a.m. on Sunday morning with the M8 in tow. Drove down to Revelstoke, met up with the Thunderstruck Team and headed up Boulder Mountain for the day."
"I had an incredible time riding and filming with the Thunderstruck team," he says.
The video is sponsored by several snowmobiling companies and showcases different sledding areas of North America.
Phelan has been to McBride and Blue River, but never filmed a video in the area.
"The weather doesn't cooperate with us all the time," he says. "When we went to McBride, you couldn't see 25 feet in front of your face."
He says they seek out areas where there are not yet any tracks.
"We try to go where nobody else is."