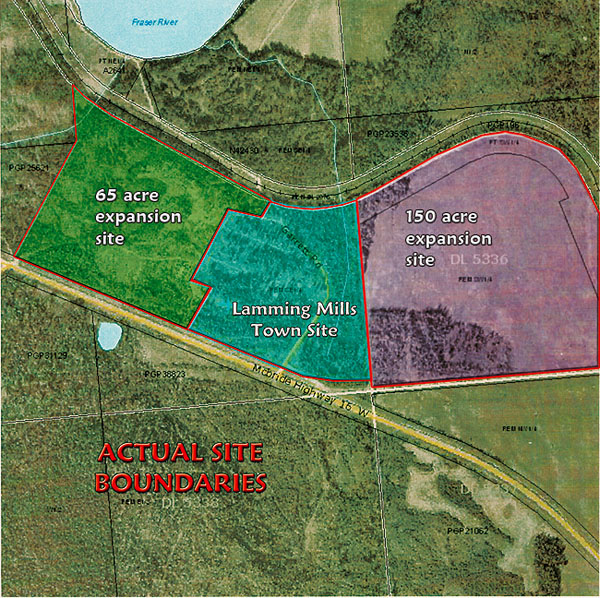 EcoTech Energy Group is promising some 280 temporary and permanent jobs this spring with the development of its green technology industrial park.
The company has been in touch with the Village of McBride for several years, but is now advertising that construction jobs will be available by spring 2012 for two development sites, one in McBride and the other at Lamming Mills.
"Everybody's hopeful," says Mayor Mike Frazier. "What we need is jobs."
He says, however, the excitement is also tempered by caution.
"We've been a little leery and gun shy over the years – we've heard lots of talk and no action, much like in Valemount," he says.
The company, in conjunction with the Village of McBride, is hosting a job fair Oct. 29th 9am-3pm at the Robson Valley Community Centre to showcase the type of jobs that will be available – everything from construction jobs to hatchery supervisor to workers who will oversee the harvest of worms.
A company release says they plan to develop a 24/7 Biomass fuelled combined heat & power generating facility, 430,000 sq. ft. produce greenhouse (partnering with HydroNov Inc. www.hydronov.com), 108,000 sq. ft. Indoor aquaculture facility (partnering with ecoGROW Corp. www.ecogrow.ca), 18,000 sq. ft. cold storage with flash freezing, 18,000 sq. ft. vermiculture, microalgae fish/food fertilizer blending & packaging, and a 1,000 sq. ft. filleting & processing building.
The company is dealing both with the regional district and the Village, as the plan to develop properties both outside and inside Village limits.
The Village has taken an active role in organizing and advertising the job fair. Village of McBride Economic Development Officer Margaret Graine says it's one of the services the economic development office offers in town.
"We have established a program to attract businesses to the Valley a few years ago when we first put our plan together for economic development," she says.
Any company can make use of the Village's services, she adds.
"I will just organize things for EcoTech and send things off to them," she says, adding that her role is basically finished.
Graine says she encourages the company to hire someone local to act as an ongoing liaison between the company and the village as a whole. EcoTech will be responsible for collecting applications, interviews and hiring.
Graine says the company will likely be in town this week and may make an appearance at the Council meeting, but many details are still unknown. EcoTech Energy Group could not be reached for comment as of press time.
Frazier says they haven't seen a detailed proposal yet.
"We've seen some of the preliminary stuff, but none of the in-depth stuff."
He says with the local unemployment rate, there are many people interested in the project.
With so many new jobs and advertising geared to Prince George, some locals have speculated the need for more and better housing options.
Mayor Frazier says they are waiting to hear more details from the company.
"We hadn't really thought yet about village expansion, but there are some empty lots and a lot of houses for sale and some of them are empty. We're going to see things when we get there."
He says he'll be at the job fair to get more information about the project.
The Village has been in touch with company representatives, he says, and one aspect in aiding the company is helping them to find a fibre supply agreement.
"Certainly we can supply them with the waste product that we create," he says.
On their company website it states that "ecoTECH Energy Group, based in Seattle, WA, is a development-stage company which intends to provide renewable biomass enegy utilizing state-of-the-art technologies." It is a public company listed on SEDAR.
Outside Links:
http://www.ecotechenergygroup.com
www.hydronov.com
www.ecogrow.ca
www.mcbride.ca