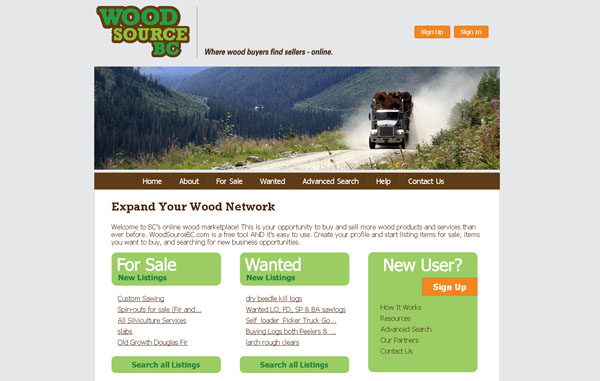 It's a cross between a sort yard and e-harmony and it could very well help small wood suppliers and mills in the Robson Valley.
Wood Source BC was launched earlier this month and is intended to help connect BC Community Forest Associations members, woodlot licensees, first nations tenures, private forest land owners, remanufacturers, woodworkers and others to access current information on wood products for sale within BC's forest communities.
The site dictates that sellers must be from BC, but buyers can be from anywhere in the world.
The project is the outcome of the Bridges Project. In 2009, members of the BC Community Forest Association (BCCFA) identified the need for small tenure owners such as community forests, private land, first nations tenures and woodlots to connect log sales with local saw millers. The BCCFA prepared and initiated this project with the support of project partners:
Ongoing operating costs will be covered with WoodSourceBC sponsorships and advertising.
It's an opportunity for local industry to find new buyers and sellers, increase margins, decrease expenses, and discover new business opportunities, according to the website.
Proponents of WoodSourceBC say it is another step in creating economically and socially sustainable communities: when a local business purchases local raw materials, more money stays in the community. The money used to pay for local materials and products will circulate through the community many times.
Buyers and sellers must sign up for an account on the website before they can see all the buyer's and seller's information. It is free to use. Members can post services, products, equipment and transportation on the site.