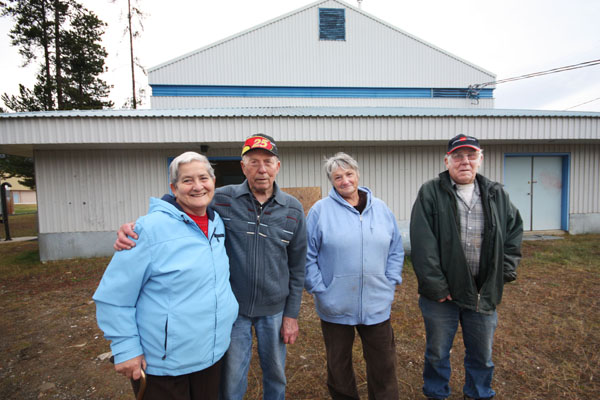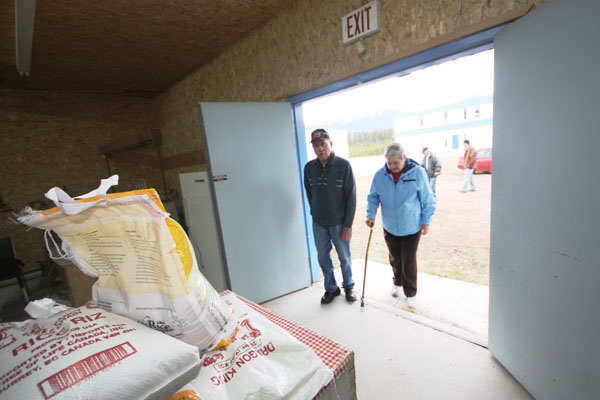 Sacks of rice, flats of soup, and
boxes of cereal were finally given
a home last week at the Valemount
Curling Rink, the food
bank's new permanent home.
It has been more than two
months since the Food Bank was
evicted from its old location at
the Valemount Health Clinic due
to renovations.
They have been searching for a
suitable place to relocate but have
been set back by space needs,
zoning, and other requirements.
Food Bank President Dorothy
Jones and her husband Len
smiled as volunteers shuttled in
the fridges and freezers and food
into the new location Oct. 21st.
The food bank was storing the
fridges and food at the Golden
Year's Lodge, but the agreement
was only temporary and they
had trouble with squirrels getting
into the food.
The new location has its own
entrance and is large enough to
fit all their shelving and counters.
Between 20-25 people use the
food bank each month, Jones
says. Many are seniors and families
on low or fixed incomes.
The food bank still managed
to give out food on their regular
distribution Sept 7th and Oct.
3rd and Jones says a dozen
people turned up for food.
"We know how important
this service is by being with the
people (who use it)," Jones says.
"I know most of these people
and I know their situations and it
is pretty sad."
Petro-Canada managers Jason
and Ellen Van der Wilk are
organizing a 50/50 draw to raise
money for the food bank. Tickets
will be on sale until Nov. 30th
and cost $5. Winning numbers
will be drawn at Petro Canada at
noon, Dec 1st. Petro Canada will
be collecting and delivering donations
to the food bank through
the ticket sale period.