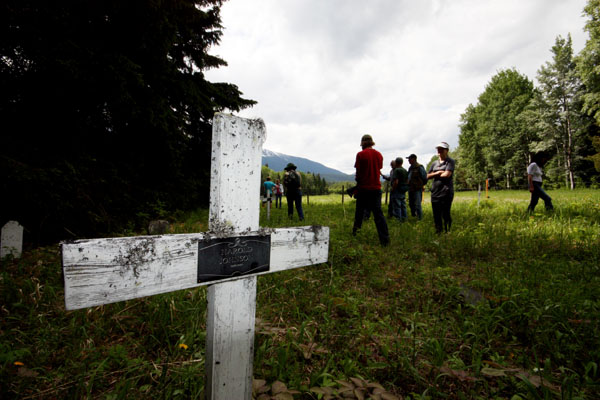 Many families have been in Tete-Jaune for generations, such as the Blackmans, the Brooks, and the Duncans.
But for the past decade, there has been no place to lay to rest those Tete-Jaune residents who pass away. Their remains are buried elsewhere or their ashes kept safe in the hope that a local cemetery will be built. Irene Blackman is one of the residents in favour of a proposed new cemetery in Tete-Jaune.
"Some of the people whose spouses or parents passed away, they've been keeping the ashes waiting for us to get this thing done, in hopes they would be able to put the ashes in the cemetery at Tete-Jaune," Blackman says. "They don't like the idea of being buried in Valemount in the cemetery where people just drive by."
She says the proposed graveyard site in Tete-Jaune is secluded and quiet – much like Tete-Jaune itself.
"I think people are very sentimental about having grown up here in Tete-Jaune," she says. "We're asking 'Please let us bury our loved ones at home rather than somewhere else.'"
She says they had to bury her husband's parent's ashes in the cemetery in Valemount.
The old Tete-Jaune cemetery, located on private land, was closed about 10 years ago when the property was sold to new owners who did not want it to continue to be used. Five years ago, the Tete Jaune Community Club (TJCC) formed a Cemetery Steering Committee to explore the idea of creating a new one.
The committee is looking at 20 acres of land located along Carr Road less than 10 minutes away from the community hall. Historically, Carr Road used to be a vibrant part of Tete Jaune before the bridge over the Fraser River washed out.
Formerly a recreation site, the backdrop to the proposed cemetery is a hillside which circles around the flat and provides privacy and protection from the wind. The committee has suggested walking trails with a view of the cemetery below and of the Cariboo Mountains across the valley. A short driveway exists and the access is good in wet or dry weather.
The committee says they are aiming for a small cemetery similar to the pioneer cemetery along Hwy 16 en route to Jasper by Lucerne Lake. They would begin with a simple plot configuration that would allow for 50 traditional gravesites as well as a place for cremation urns, adding benches, and planting some naturally occurring wildflowers and shrubs.
"It's a very nice place. It's still wild. It's not surrounded by pavement and cars going by. It's far enough from the general public that we'll probably never see vandalism," Blackman says.
The committee says they would welcome input on future plans for a special memorial wall for those who have already passed away but whose families wish to remember them with memorial plaques.
Frank Kiyooka, another Tete-Jaune resident, says the idea has been around for 10 years now, since about the time the old cemetery closed.
"People live in a community and they die in a community and it's only fitting that they be buried in a community," Kiyooka says.
He says quite often people who move away will go to the local cemetery to see their ancestors and that this happens all over the world.
"A cemetery is actually a little stamp of history for the area."
Blackman says she hasn't heard any negative comments about the current plan. Originally the committee was thinking about a location next to the community hall, but some people were opposed to that due to its visibility from residences as well as the poorer quality of the soil.
"People don't want to have a cemetery in their backyard."
There will be a temporary increase in local taxes in order to pay for the cemetery. Blackman says they don't have the final figures on how much that increase will be. It will be offset by the sale of plots.
Maintenance will be taken care of by the community association and the regional district.
The regional district will eventually hold a referendum in Tete-Jaune on the proposal, but first will host an information meeting. This meeting will be held at the Tete Jaune Community Hall, Monday, October 24, 2011 at 7 p.m.Blackman estimates that the 50 plots will likely last 25 years. She says some people who are living in nursing homes in a city may choose to be buried in Tete-Jaune where they grew up.
"Family would like to bring them home, and it would be so nice to have a place to bring them home to."