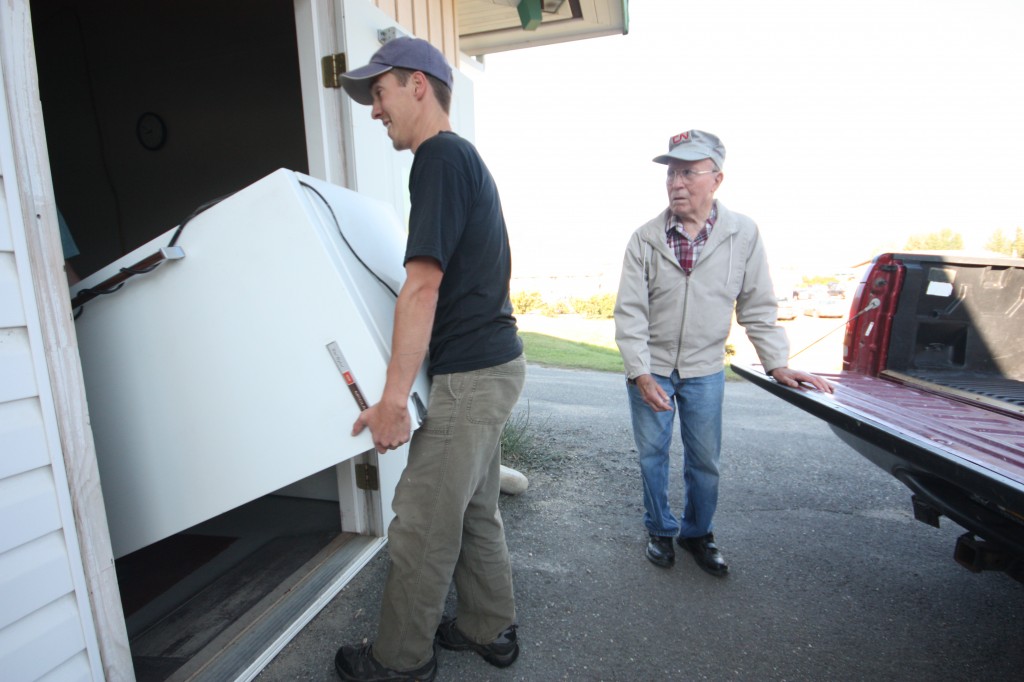 Laura Keil
[email protected]
A few empty fridges and freezers and a heavy wooden counter now covered with a tarp is all that is left of the Valemount Food Bank, after they were forced to leave their space at the health clinic in just three days.
A handful of residents pitched in a hand last Thursday morning to move the food bank from their current location and into storage, as northern health begins renovations of the building.
The Food Bank, which has been using the clinic for 15 years, has to find a new permanent location, as the renovations expand patient care space.
Northern Health spokesperson Steve Raper says the health division changed the eviction notice at the last minute after realizing the contractors were set to begin right away.
"There was an original notice and that was shortened to a few days because of an error on our part in terms of communicating that," he says.
The food bank was given three weeks to move in the original notice, but a few days later were told by clinic staff that it had been shortened to a few days. There was no help offered to help them move out more quickly, according to Raper.
"I was very upset," says Dorothy Jones, President of the food bank. "We're all older and it's hard for us to get around."
Counc. Bobbi Roe offered to let the Food Bank use the basement of the Golden Year's Lodge to store the two fridges and deep freezes while they look for new lodgings. The counter is being stored in a yard under a tarp.
They won't be able to use them while in storage, and Jones is not sure whether they will be able to hand out food on September's food bank day, which falls on Sept. 7th.
"It is really a big need in this community. People have a hard time getting by without it."
The day before they moved from the clinic, Jones says a family of three showed up with an emergency. They had not eaten in two days. Many of the 20-25 clients are the elderly or persons with disabilities, who have very small pensions that go mostly to paying rent, Jones says.
The Food Bank needs at least 300 square feet, and it has to be rent-free since they have no budget for that. She says the Legion and Lions would not have enough space for them, but there are other options in town.
"There are so many empty buildings you'd think there would be some space that would come available," she says. "We've got another week here to see what happens."
People can still donate food to 1155 8th avenue or at the library or money in a donation jars at restaurants and stores in town. If someone knows of a space call Dorothy Jones – 566-4858.
Raper says they did apologize and the acting Health Service Administrator in Prince George is trying to help but he says it may be "too little too late."