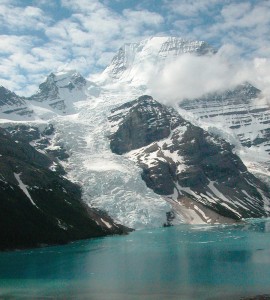 After several years of pursuit, the Yellowhead Outdoor
Recreation Association (YORA) has received $2000 in
funding from the MEC/BC Parks 100 Years of Adventure
Event Series to host a Berg Lake Marathon on the trail
rounding the back of Mount Robson.
"It is a perfect marathon length to Berg Lake and back," says
Patricia Thoni, president of YORA.
She says they will also have a half marathon race to and from Kinney Lake
and a one or two kilometre kids race somewhere at the bottom,"
According to Thoni, very shortly a committee will be
formed to sort out the details of the race and how to promote
the event.
Both runs will take place September 10th starting at 7:30 am
for the full marathon and 8:30 am for the half-marathon.
"Apparently it is a good time because the people who do
marathons say that there is not a major marathon in this
area happening around that time. Also, the trail will not be
as busy at this time of the year."
Thoni says that this year the race will be hosted by YORA,
however the plan is to turn the race into a very large annual
event, using the spectacular and well know backdrop
of Mount Robson as the main promotional tool.
"It could be taken over by Tourism Valemount in the
future," she explains.
"It could turn into a really big thing," she adds.
In an e-mail, Thoni was informed that the Berg Lake
marathon event was chosen despite an overwhelming
number of competing applications under the Event Series
program.
Anybody interested in helping organize or participating in the event is encouraged to contact Patricia
Thoni at the Caribou Grill or Jenn Meagher, marathon co-ordinator at [email protected]
The Mount Robson Marathon will include two separate events:
Berg Lake Full Marathon (42.2 km, 26.6 mi)
Saturday, September 10, 2011, 7:30 am start time
Kinney Lake Half Marathon (21.1 km, 13.3 mi)
Saturday, September 10, 2011, 8:30 am start time