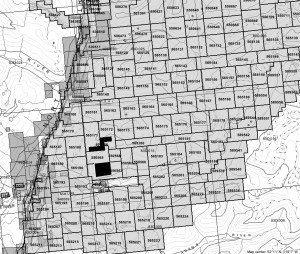 As Commerce Resource Corp enters the next stage of exploration for their Blue River Tantalum/Niobium project, another company is looking to do their own mineral study on two tenures floating inside the huge swath of mineral tenures held by Commerce Resources near Blue River.
Dwayne Kress, a Squamish-based prospector and mining consultant has optioned off his two tenures located in the middle of Commerce Resources' tenures to an exploration company called Ultra Uranium.
"The company has quite an extensive exploration season planned ahead," says Kress, who in addition to owning the tenures, consults for the company.
Ultra Uranium hasn't been to the property yet, Kress says, but they will likely be looking for rare earth minerals such as Niobium on the property.
He says Commerce expressed interest in obtaining the tenures.
"We never did come to terms on a deal," he says. "That being said, I wouldn't rule out Commerce being involved down the road."
Kress is attending the Prospectors and Developers Association of Canada this week in Toronto as is Ultra Uranium and Commerce Resources.
"That's where most of the world's financing happens for mineral exploration," Kress says.
He notes the entire mining industry is just recovering from getting slammed in 2008 and 2009.
Kress has owned the Blue River Tenures off and on for about four years.
Ultra is a Canadian exploration and development company primarily engaged in the acquisition, exploration and development of uranium properties. The company has uranium assets in Slovakia and Gold/Silver exploration assets in Ontario, and recently announced the acquisition of the Buck Lake platinum, palladium, nickel property near Thunder Bay.
Commerce Resources is working on the next phase of their engineering study to determine whether a Tantalum or Niobium mine is feasible.