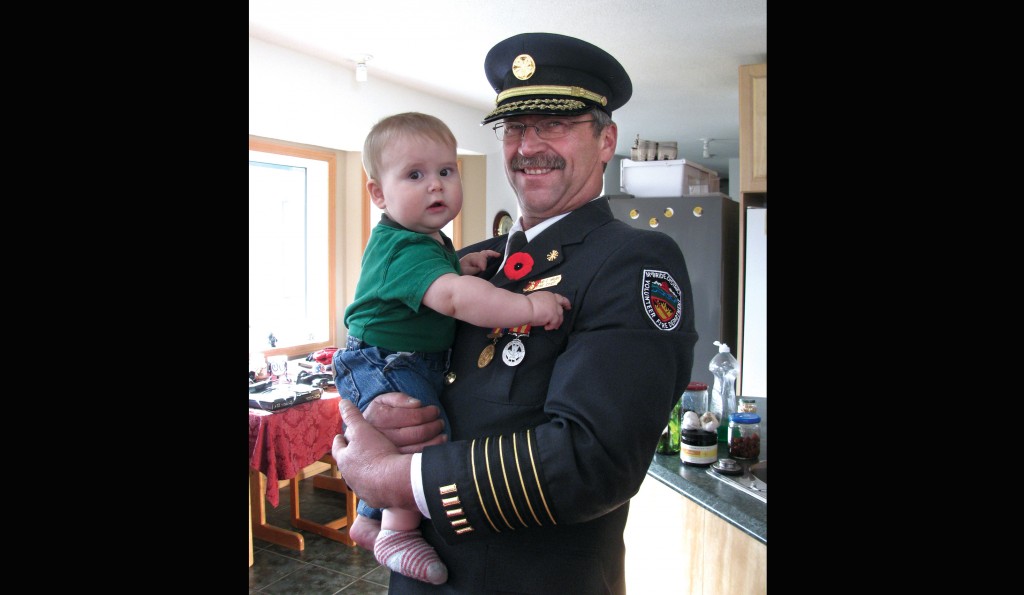 McBride's fire chief David Hruby has handled explosives on aircraft, charged into burning buildings and kept his team's spirit high throughout his 30-year career.
He was recently awarded one of Canada's highest honours for a career in firefighting for his work as a fire chief in McBride since the 1980s – the federal Fire Services Exemplary Service Bar.
Hruby had a precocious start in firefighting at the age of 14 in the junior fire fighting program in Wisconsin where he grew up. The experience led him to create the junior fire fighting program in McBride many years later.
From 1969 to 1974, he worked in the US Navy as an aviation mechanic, and all members were part of the fire suppression crew. He says the most challenging educational time spent was on the Aircraft carrier Ticonderoga working with aviation fuels and explosives.
"In the last 30 years there have been many trying situations and calls," Hruby writes in an email. "Each call is challenging in its own right. The decisions made can literally be life or death decisions, so the training and experience have to just kick in and solve each situation as it comes. That is the joy of the job."
After leaving the Navy, he continued to work in fire services in various parts of the U.S. until he moved to McBride in 1980. His wife Rosemary says they came to Canada to get back to a small town way of life. They took a July 4th vacation and came up to this area just "on a lark."
"We fell in love with the area and the people," she says.
The service station was for sale – so they made an offer, bought it, packed up and moved north.
At the time they moved to the Robson Valley in 1980, the fire department served only the Village of McBride and had only one truck. In 1984 the fire department became a regional one under the Regional District of Fraser Fort George and the service area stretched from just the village to a service area of five road miles. Rescue service was added in the late 80s.
With careful budgeting, the trucks have expanded to three service units today, known far and wide by their signature flames on the hood.
Martina Wall has been a firefighter for nine years and has known Hruby her entire life since he and her dad were good friends.
"We're kind of one big family at the fire hall so it's like he's part of my family," she says.
She says he is always wanting the 28-member crew to get as much training as possible and make sure they are on top of their work, but he doesn't forget about fun.
"He's compassionate," she says. "He's always making sure everyone's doing ok and dealing with things how he should."
Hruby received his award at the Christmas appreciation supper held in November in McBride. The award was presented by his friend and fellow Fire Chief Bryant Kemble.