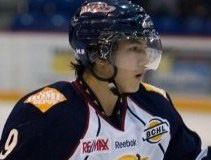 Since he began skating at age three, Dylan Walchuk of McBride has had his stick on the ice.
Earlier this week, the 18-year-old learned he will be playing among the best junior players in the world in the World Junior A Challenge tournament being held in Penticton, B.C. this November.
"It was just an unbelievable experience," he says of the try-outs. "Not many guys get to put on that Canadian jersey."
He says he skated alongside many talented players in the training camp where other young hopefuls jostled for one of 22 spots on Canada West.
The team is chosen from five leagues, from B.C. to northern Ontario, about 55 teams in all. Dylan was one of the four centremen that were chosen from 220 who play that position in the league.
His team will be playing against many of the best 17, 18, and 19-year-olds from their respective countries. Unlike the World Juniors you will see at Christmas time these are the younger all stars and the Canada team is allowed a maximun of five 19-yearolds. Other countries such as the U.S. do not have a WHL league so Walchuk will play their best players, which in the USA come from the USHL.
WHL players are ineligible to play as they are considered pro players.
Walchuk, who ordinarily plays with the Vernon Vipers, scored the winning goal for his team last year during the RBC Cup rookie all-star game in Winnipeg. After that, his hockey stick was retired to the Hockey Hall of Fame in Toronto.
At age 16 and 17, he led the entire league in points and was rookie of the year. Last year he scored 47 points (19 goals, 28 assists) in 56 games for the Vipers.
"I think his mother met Wayne Gretzky one time," says his dad Stan Walchuk. "I'm not sure where he gets it."
Next year he will be playing with Northern Michigan on a full four-year scholarship to the university. He says he chose to go the Junior A route instead of the Western Hockey League, because he wouldn't be eligible for post-secondary scholarships. Dylan says it will also allow him a few more year to develop his skills.
Stan Walchuk says roughly 40 per cent of NHL players do the college route. He says his son has already had European coaches tell him they will eventually offer him a professional contract to play in Europe.
But Dylan hasn't always had his path go smoothly – it's his determination that got him through.
"Even though he was passed over at times in his life, he just stuck with it," Stan says.
Dylan began his hockey career with CanSkate and the McBride Grizzlies. Now, At 5'9" and 173 lbs. he is known for his speed and agility on the ice.
Hockey scout Dan Sallows wrote of Walchuk on his blog: "Walchuk is a good team player, that comes to the rink ready to work every shift."
Dylan says he is excited to play and work hard to show his grit.
His team will play in Group B at the 2010 World Junior A Challenge, joined by Russia and Switzerland, while Canada East, Sweden and the United States will comprise Group A.
Round-robin play will run until Nov. 10, with both semi-finals taking place Nov. 13. The gold medal game, which will be shown nationally on TSN/RDS, the official broadcasters of Hockey Canada, is set for Nov. 14.