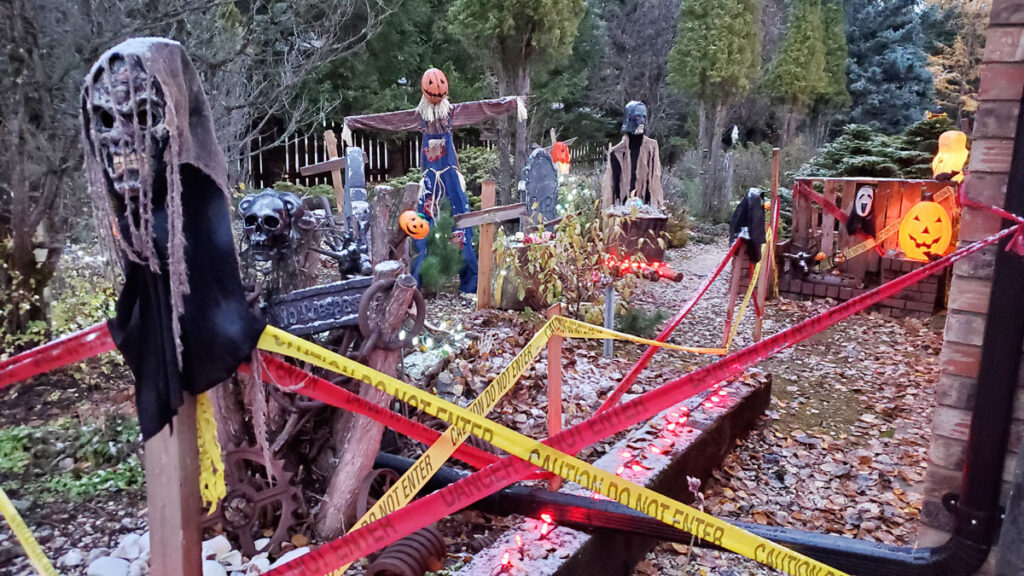 By Andrea Arnold
Each year, about a week before Halloween, McBride residents Jim and Wendy Lorenz begin the task of hanging skeletons and bats and positioning tombstones around the yard.
"We began decorating for Halloween the year our first child was born," said Wendy. "In 1983 we started with a homemade scarecrow, a hay bale and some pumpkins."
Although their collection has grown exponentially and continues to grow with each gift-related holiday, they still prefer the homemade decorations or ones that they have repurposed to their taste, that help them stretch their creativity.
Both Wendy and Jim each remember the Halloweens of their childhoods.
Wendy grew up trick-or-treating around the streets of McBride. She remembers her mom making a Pocahontas costume out of crepe paper.
"We had to hope it didn't rain," she said.
Her mom would give them a bar of soap in case the urge struck to create white graffiti.
For Jim, Halloween looked quite different. Growing up in Dunster in a very religious family, they didn't go all out to celebrate the day. He does have memories of walking five kilometres to their five neighbours' houses, being sure to hit the homes with the best treats.
They both recall how harmless practical jokes were a regular part of Halloween night. Equally as regular though, was the sight of the jokers cleaning up the mess over the next few days, fixing any damage they caused and then completing a form of community service.
Through their years of living in Prince George they saw many different Halloween activities and have been excited to see McBride offer things like dances geared to different age groups, fireworks and the occasional haunted house.
Besides the difference in the communities, they have noticed a few big differences that directly impact them.
"In the city, we wouldn't set up early," said Wendy, "We had to be careful because things would go missing. One year there was a pumpkin shortage and all our pumpkins disappeared overnight."
Decorating their home on McBride Crescent is different because the yard is secure and quite sheltered from the wind as well. They also have an area that is sheltered from rain, keeping decorations and electronic components dry.
Between the safety aspect and the dryness, the couple can plug away at set-up over several days, weather permitting.
"It is also nice because we don't have to panic the night of Halloween to get all the vulnerable decorations back into the house," said Wendy, "We can enjoy the evening and start cleaning up the next day. Clean-up usually takes about a day,"
Another more surprising fact about their Halloween experiences since moving back to McBride is that they have had way more visitors come check out their display on any given Halloween night. Their homes in PG were either out of town a bit or located on a dead end street that kids seemed to be scared of.
"We had over 120 visitors last year," said Jim. "We love seeing the little kids in costumes. I specifically love seeing the kids' reactions to the decorations. It doesn't matter how old people are when they visit, even parents that get dressed up get a treat."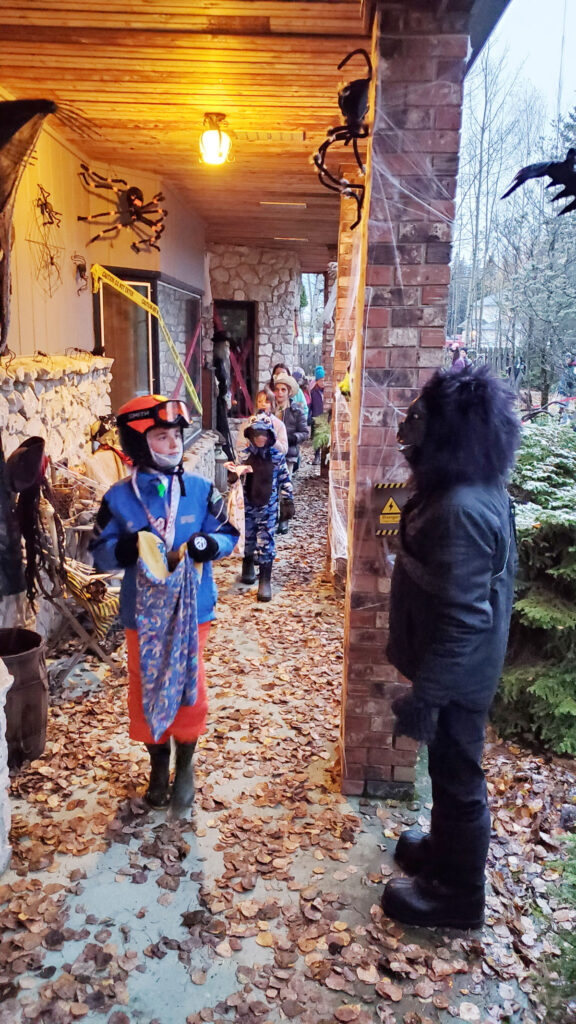 Wendy is hard pressed to pick her favourite decoration, but singles out two. One is a chubby gray rat with huge buck teeth that her son gave her. It helped fuel the beginning of a collection of rats that span from cute and chubby to rabid and demon looking.
"I've always loved rats, even way back when I was kid," she said.
Her favourite individual item is a huge skeleton dressed as a groom that Jim bought her the year their last child moved away.
"There was a bride too," she said. "I wish we'd gotten that one too, but this one is really neat."
For many years the couple lived in Prince George and would regularly spend a Saturday, regardless of season, travelling around the city checking garage sales and thrift stores for new treasures. Wendy enjoys adapting items or costumes to fit their decoration scheme.
"There were some days that we would load the car up and have to go unload at home several times throughout the day," said Jim.
Since their return to McBride, the pair has had to cut back on the frequency of their shopping trips. However, their stash continues to grow as their family is on the constant lookout for spooky items.
"I even get Halloween things for Mother's Day." said Wendy.
One whole room of their house is designated decoration storage and the ratio between Halloween and Christmas tips in favor of Halloween. Some of the bigger items are stored in a closet in the basement.
"Yes, we actually do have skeletons in our closet," said Wendy.