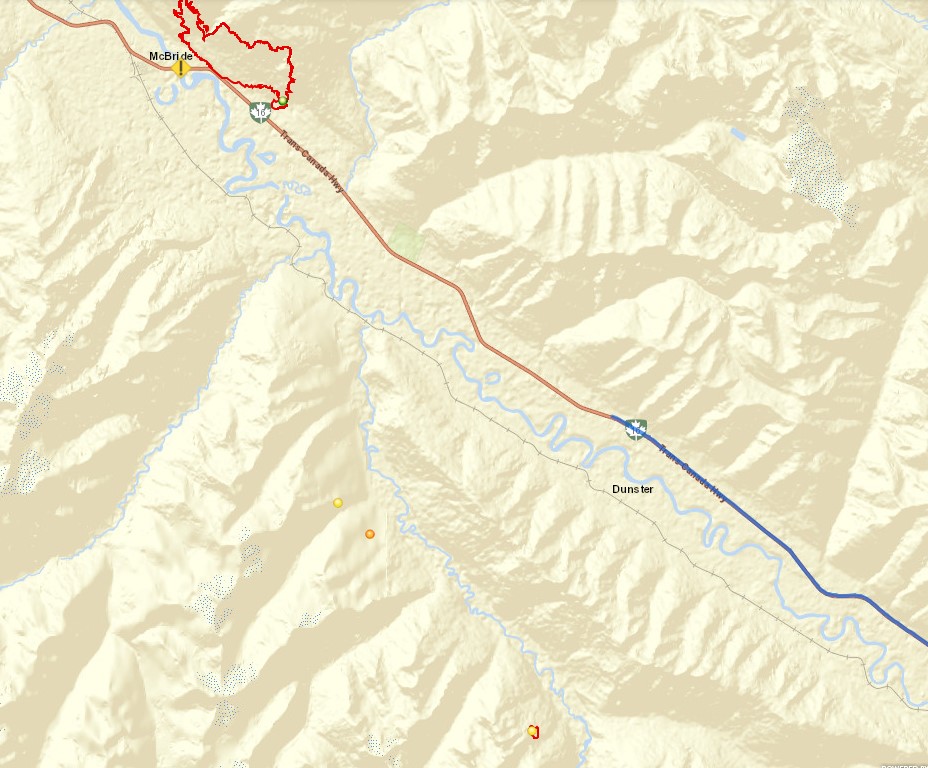 By Andrea Arnold
Due to lightning strikes over the weekend of July 22-23, three fires started up in the Raush Valley.
Although BC Wildfire stepped in initially to attack the locations, they are in areas of the valley that are not easily accessible.
The two closer to inhabited land, G32195 and G32193 are both small in size, measuring less than one hectare when combined. Both were initially listed as "out of control, but have since been updated to "being held."
A third fire, G32134, a good distance further up the valley and high up on the mountain side, was initially listed as 75 hectares, but an update on July 31st at 12:50pm listed it as "being held," and reduced to 16.1 hectares.
Julia Caranci, Information Officer, Prince George Fire Centre, BC Wildfire Services confirmed that they are continuing to monitor the three sites.
"We recently flew over G32134 and G32193 and they were not exhibiting any increased fire behaviour or visible smoke columns," said Caranci. "G32195 has not been spreading and currently has a low risk of spread."
She said that two of the three fires are in areas of extreme slope and crews cannot safely access them at this time, but that they are keeping a close watch on them.
The third, G32195, while not being impossible to safely reach, has its own set of access challenges.
"The Robson Valley zone did receive some precipitation over the last week, which did have a positive impact and reduced activity on a number of wildfires," said Caranci. "Having said that we want to remind everyone that a campfire prohibition remains in place for the entire Prince George Fire Centre at this time."
As wildfire conditions are constantly changing, residents are advised to check current conditions when making plans. Click here for a link to Emergency Map BC https://tinyurl.com/bdzrj3ny .