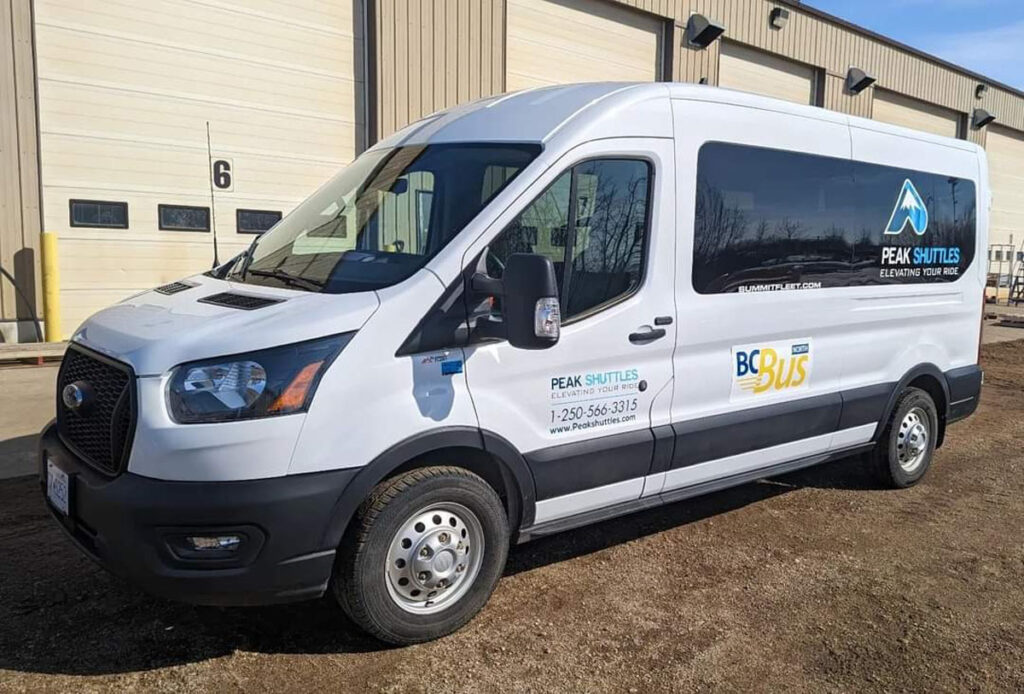 By Andrea Arnold
Beginning April 3rd, Valemount's mountain bike shuttle, PEAK Shuttles, are expanding to include a return shuttle option to Prince George twice a week under the banner of BC Bus North.
Aaron Ermantrout, President of PEAK Shuttles said that Pacific Western Transit came to them almost a year ago looking for solutions providing a cheaper shuttle service than what was being run.
The BC North bus that has been operating shuttles from Prince George to Valemount has been using a full size bus, with 53 seats, but Ermantrout says that only a few seats have been filled on most of their trips.
The PEAK van has room for 10 passengers, providing a more economical option.
"It is a 15-passenger van, but we have removed the back seats to make room for luggage," he said.
Ermantrout has been in negotiations since they were initially approached by Pacific Western Transit and is thrilled to announce that PEAK's two year contract begins in April with the first trip April 3rd.
"I think that it is better to start the round trips in Valemount," said Ermantrout. "The four hour layover in Prince George is enough time for people to have appointments, or run errands."
The van being used is also fitted with bike racks. Ermantrout hopes that this option will increase the number of visitors from Prince George.
"This will give people the opportunity to have an affordable ride to Valemount on Friday afternoon, ride Saturday and Sunday and still make it back to Prince George for an afternoon of work on Monday," he said.
Trips are scheduled for every Monday and Friday, with no current plans for schedules to be modified due to holidays. The shuttle will be leaving from Valemount at 7:00am, and arriving in Prince George at 10:30am with stops in Tete Juane and McBride. The return trip will begin in Prince George at 2:30pm and arrive back in Valemount shortly after 6:00pm.
7:00am – Valemount Petro Canada
7:20am – Tete Juane Lodge
8:10am – McBride Train Station
10:30am – Canfor Leisure Pool 670 Quebec Street – Bus sign C
2:30pm – Canfor Leisure Pool 670 Quebec Street – Bus sign C
4:50pm – McBride Train Station
5:45pm – Tete Juane Lodge
6:05pm – Valemount Petro Canada
Ermantrout will be riding the big BC Bus North on Monday March 27th to get a good feel for the route and to see if there are any more adjustments they need to make before they take over the route in April.
A return trip will cost close to $100, $44 plus taxes each way. Tickets can be booked online, https://bcbus.ca/ or over the phone 1-844-564-7494.
Ermantrout says that at this time, PEAK Shuttles are not able to provide wheelchair accessible services. However, they have worked out an agreement with Northern Health Connections. He said that if someone contacts BC Bus North with special accessibility needs, they will work together with Northern Health Connections to provide transportation services, even without a medical appointment scheduled.
PEAK has been serving the Valemount biking community through shuttles to the bike park for the past five years. They plan to continue this service as well as the additional Prince George trips. They currently have two drivers and are looking for an additional driver. Each of the drivers will take turns handling the new PG route. They will also be getting a new 2023 bus that will be assigned the new route, and the bus they are starting with will be transferred to bike park duty.
Ermantrout hopes that this new variation of the route, starting in Valemount with a layover in PG, will accommodate more people from the valley end better than the layover in Valemount that has been occurring.