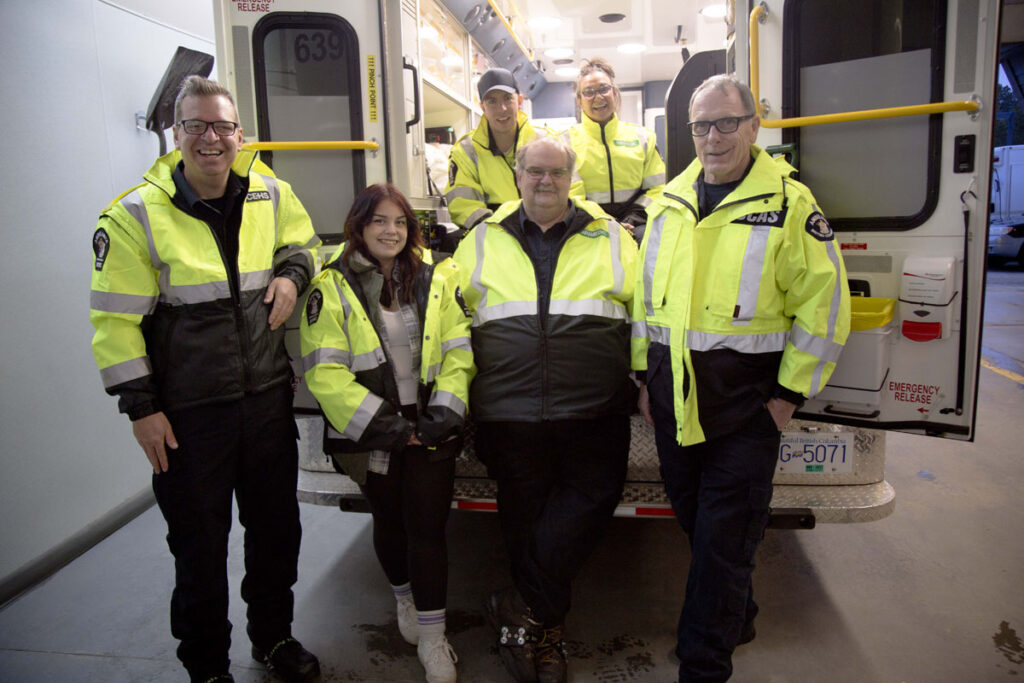 By Laura Keil
The heavy garage door at the Valemount Ambulance Station was pulled up last week, but instead of rushing out to patients, attendants hoped people would come to them.
Vertical flags showing smiling paramedics stood on either end of a table where a promotional video played on a loop. But if you thought these were merely generic PR stunts, you'd be wrong.
Michael Saat, talent acquisition representative for BC Emergency Health Services (BCEHS), and Derek McClure, operations manager for the Valemount station, swapped stories of the young people on the posters and video that they'd hired, mentored or, in one case, were related to. One familiar face was Valemount-born-and-raised Dakota Stone, who is now a paramedic in Vancouver.
But for all the positive hiring stories, there remains a problem: an acute shortage of ambulance attendants in many areas of the province, which often translates into a lack of ambulance availability and delayed response.
Saat is hosting open houses around the province, including ones in McBride, Valemount, Blue River and Clearwater last week. He hopes rural people will see the opportunity, both in pay and benefits, and in serving other people.
"The whole focus in rural and remote recruitment right now is trying to find local people that want to stay in the community and have a vested interest in that community," he said. "It doesn't help when we parachute someone in from somewhere else and then leave the first chance they get because our community is still struggling for staffing."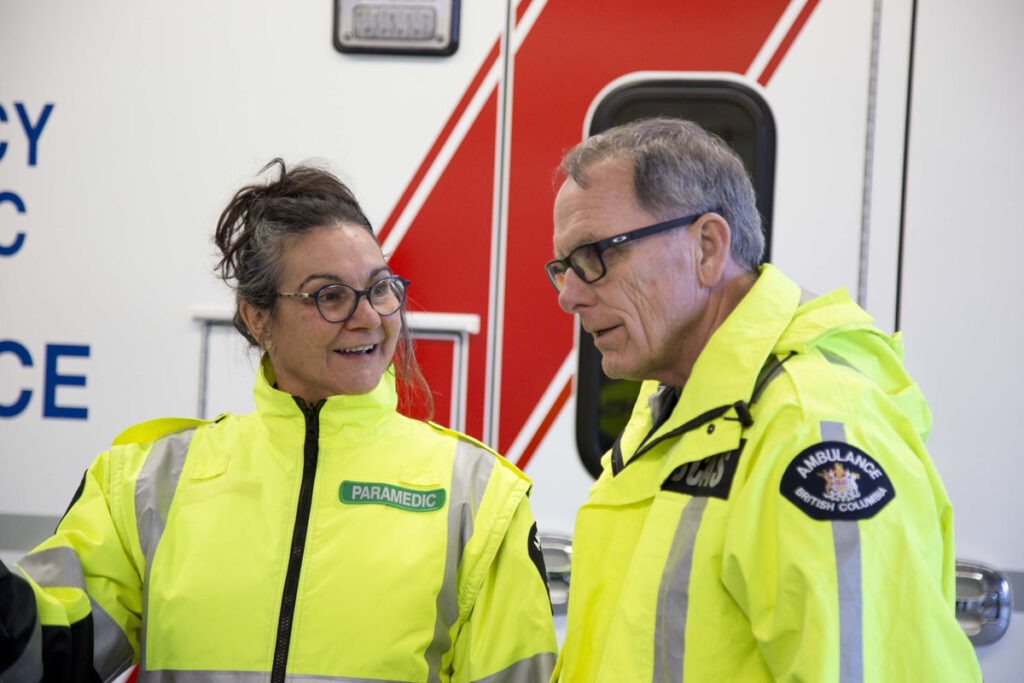 He says they are flexible with qualifications. For example, a person with their EMR could start as an attendant only while they acquire their Class 4 license. And a person with a Class 4 license could start as a driver only while they acquire their EMR training over the 6-month probation period. He notes that one sticking point is you must be fully vaccinated.
"We go into houses with people who are incredibly immuno-compromised," he said. "To go in and not have that … You're just putting them at risk."
In Valemount, which recently received a 24-Alpha designation, BCEHS is looking to hire 2-4 additional full-time people, and would also welcome anyone looking for part-time work to help cover the gaps.
"By working part-time they can pick the days that they want to be available, but they can also pick up extra shifts with last-minute book-offs if someone calls in sick."
He said it's a great wage package and a new package is being ratified soon, which is supposed to be significantly better. Plus there are benefits, a public-service pension plan, and a lot of the training is paid for by the organization.
Saat said being able to help people was the most rewarding part of his career.
"With Advanced Life Support in Kamloops, we started doing TNK (a clot-busting drug) for heart attack patients," he said. "So you're going to somebody who's pale grey, wet, with crushing chest pain that's been lasting for god knows how long and give them this clot-busting drug and by the time you get to the hospital, they're pain-free. Making a difference, that's what's hugely rewarding."
He says there are a lot of specializations paramedics can pursue.
"Most of the paramedics in the province are EMRs or PCPs, primary care paramedics. Then you can move up the scale from there. The sky's the limit with a lot of this stuff."
Specializations include Advanced Care Paramedic, Critical Care Paramedic or the flight crews, there's the infant-transport team. He says there are paramedic specialists for large events and technical support for the crews. Bike squads navigate big crowds at festivals or at the airport. You can also move into Unit Chief and Operations Manager.
"There's just an infinite chance of advancement and opportunity."
Anyone interested can go to bcehs/join for more information.