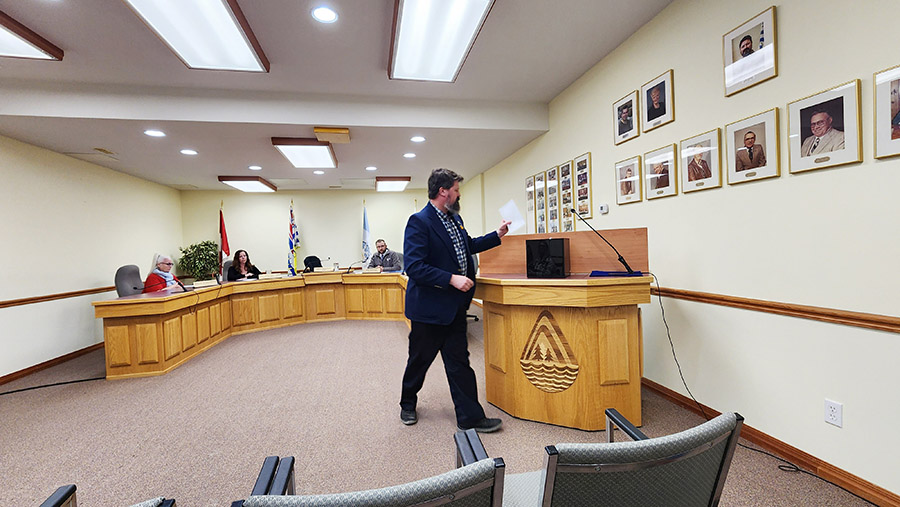 By Laura Keil
After a history-making process to fill the two remaining councillor seats in Valemount, Council has decided which two residents will be joining Village Council for the next four years.
The decision was reached after just one round of voting: Donalda (Donnie) MacLean and Hugo Mulyk. Valemount Council took a vote in a special meeting Friday Nov. 18th to select two people from a list of 13 possible applicants: Gordon Carson, James Hockin, Sharon Ireland, Eugene Jamin, Donalda Maclean, Shanon Manahan, Hugo Mulyk, Page Norton, Hope Norum, Rita Rewerts, Charles Simpson, Shona Thorne and Samantha Travers.
At the beginning of the meeting, Mayor Owen Torgerson thanked all the people who had offered to serve.
"On behalf of Council, I humbly thank all that put their names forward during this appointment procedure. Their offer to serve our community in this capacity regardless of their residential address is to be highly commended."
Torgerson said he hopes to see a similar passion from the community for sitting on Village committees and during the next general election in 2026.
Only the mayor and two incumbent members of Council put their names forward during the regular nomination process in September, and no new candidates, leaving Council short two councillors, which triggered a process whereby Valemount Council had to appoint the remaining two from self-nominated residents.
MacLean previously sat on Council for the last four years, but didn't put her name forward during the regular nomination period. However, once the Village solicited applications from the public to fill the remaining two vacant seats, she reconsidered.
"In September I had thought there would be a whole bunch of people who would step forward," MacLean told the Goat. "I was really surprised when no one stepped forward."
"At the time I was busy and I just thought, 'Well other people will step forward, there are so many new people in town.' I had no idea there wouldn't be a lively election."
She was concerned that no applicants would apply for the appointments, because she didn't know anyone who had put their name in.
"I was afraid we were going to end up with a provincial (government) appointment."
She was heartened to see there were many people who applied, but said she didn't know that when she offered to run again.
"I'm very pleased to have been chosen."
Hugo Mulyk is new to Council. He is a retired BC Parks ranger, former Search and Rescue manager and currently sits on the Valemount Seniors Citizens Housing Society board and the Valemount Entertainment Society.
"Valemount's been very good to me. I've enjoyed it in the years that I've been here. I thought that in my other volunteering I've brought something to the table, so I thought I may be of use."
He said he has a great deal of respect for anyone who puts their name forward to serve in local government.
"I look forward to providing whatever help I can give in helping the village achieve its goals," he said.
During the special appointment process, the BC government initially said candidates were limited to those residing within Village limits, but after petitioning from Council, they enlarged the eligibility criteria to people living within Area H of the Regional District of Fraser-Fort George.
According to government officials, this is the first time this section of the Community Charter has been used to fill vacant council seats in B.C.
If no clear decision had been made by Council after three rounds of voting Friday, the Village CAO would have had to "draw lots" (draw a candidate name randomly) to decide the final pick. Since Council selected their teammates in a single round of voting, this did not occur.