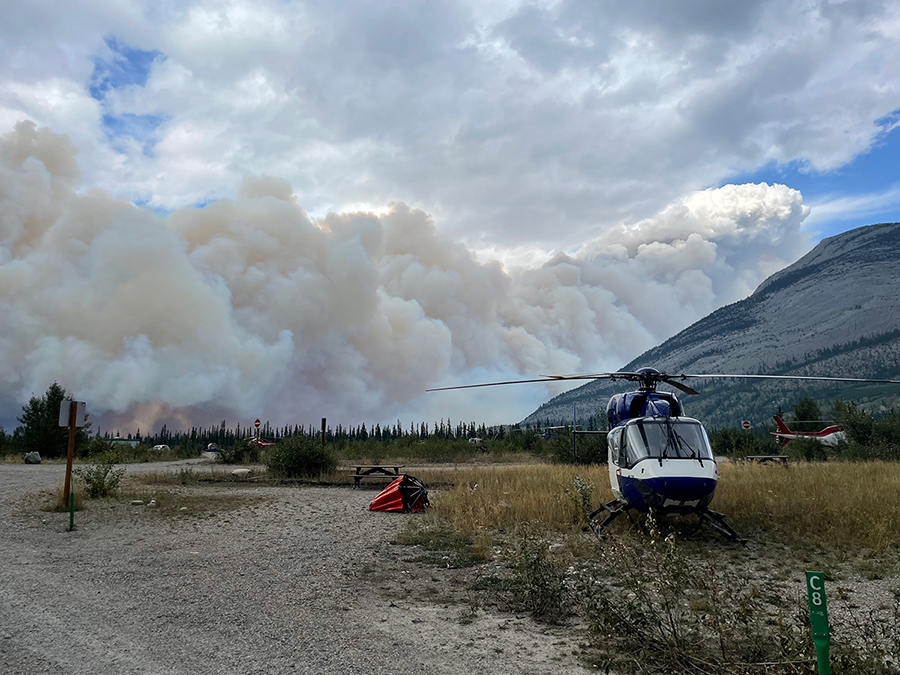 By Andrea Arnold
A wildfire started by lightning around 1:30am Thursday morning on Chetamon Mountain near Jasper had grown to more than 6000 hectares as of Monday.
McBride resident Cassandra Johnson traveled through the area on Friday going both directions and said she could see two helicopters with buckets working on the fire, and the wind was horrible.
"It was raining ash in Hinton," she said.
The fire is north of the community of Jasper and spreading northeast, away from the town. Early on residents of Jasper were cautioned that a power outage was possible as the fire is close to power lines. The municipality of Jasper was working with ATCO, making arrangements for a switch to generator power if needed and crews were on location making preparations. Saturday morning, specialized fire crews began making fire control lines to help protect the community's power line. Sunday night, the power went out, but only briefly. However, then again around 4:00am Monday morning.
Jasper National Park posted the following to twitter, "ATCO says their crews are enacting their emergency plan and working safely to switch over to generator power for the critical sites." These sites include the hospital, traffic lights, the Jasper Activity Centre (Reception Centre location), the water treatment facilities and water wells. School will not be resuming on Tuesday morning as planned, however the daycare will remain open. All three pharmacies are open however, some non-essential services are closed, including some gas stations. Only some restaurants remain open, and some of the businesses on Patricia street have power.
The Jasper airstrip has been closed to all private aircraft, allowing only firefighting aerial traffic.
In a statement provided, Parks Canada said that they had deployed helicopter bucketing and aerial retardant to protect infrastructure and keep the fire within natural control features and roadways. Due to the location of the fire, the steep terrain and lack of available water, crews have not been placed along the edges of the fire at this time. They closed Snaring and Celestine Lake roads and the surrounding areas, including campgrounds.
By midday Monday, the Wabasso Campground had also been closed and Parks Canada sent out a request asking that all visitors consider delaying their visit to the park.
Parks Canada also reported that a full National Incident Management Team was in place on Sunday to provide additional emergency response assistance.
Saturday morning, Environment and Climate Change Canada issued a special air quality statement for the Jasper area as well as the Hinton-Grande Cache area. The cloud of smoke traveling through Hinton is causing limited visibility.
There was no concern for evacuation as of Sunday, but Jasper Mayor Richard Ireland urged residents and visitors to prepare themselves for a possible extended power outage. Following the restoration of power, Ireland said that due to damage to infrastructure, it is unknown if they will be able to provide power at full capacity. Fire officials continue to report that there is no risk to communities at this time.
The Jasper area received between three to five millimetres of rain overnight Sunday night providing fire crews with a bit of a reprieve by reducing the smoke and fire behaviour.