By Laura Keil
After years of anticipation, Valemount has a mill again, and the first loads of finished product have shipped—8×8, 6-foot pieces of Hemlock destined to be used as rig mats in Alberta.
The Valemount Community Forest has been working on getting the mill operational for about three years, and hopes to employ 1-2 more people as the enterprise expands. Currently it has four full-time employees and three contractors tied to the operation.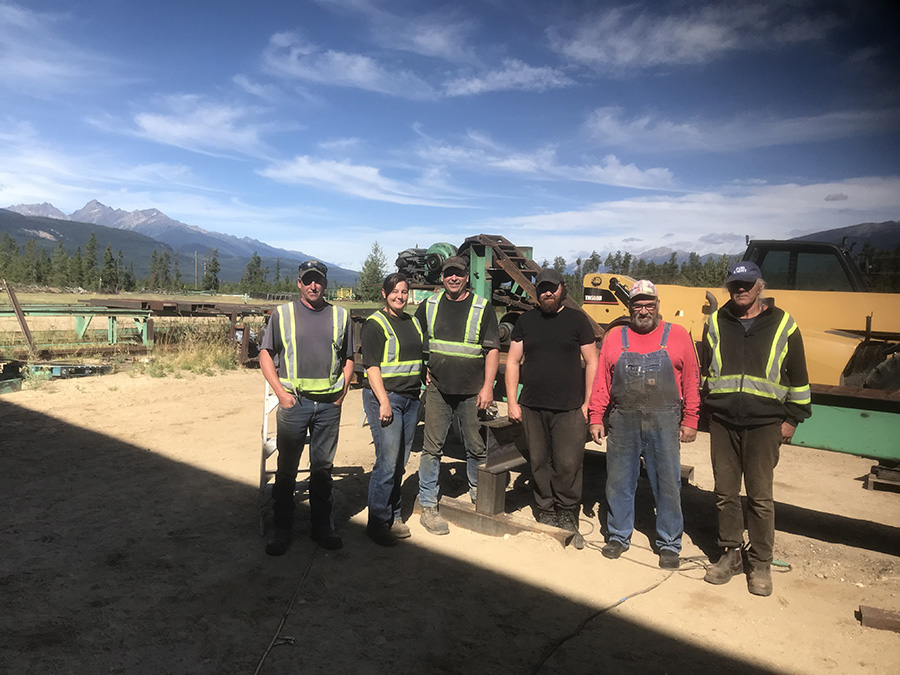 Stockpiles of hemlock sit outside the blue building, waiting for their turn on the conveyor. The rig mats are not the only product the mill can produce, but a good one for the slower market conditions at the moment.
"That's a really good product for our mill," said Craig Pryor, Manager of the Valemount Community Forest. "Hemlock is kind of a problem wood. Not very many companies want to want to run Hemlock. In the past, we were just selling it for pulp and losing money. It's beautiful wood. So we thought, we'll try that, and there are some markets for it."
Pryor says they are already considering taking some custom orders and are working with two marketing companies to achieve that.
One of the most important things to figure out prior to opening was what to do with the waste wood, and they've found a home for all three waste types: the chips go to a pulp plant, the smaller pieces are sold as fuel for an electrical generating facility, and the sawdust is purchased by farmers.
They hope the mill can provide raw material for other spin-off industries in the future.
This summer the community forest held a yard sale to sell off rough pieces from the mill that they can't send to market. Pryor says this has been popular with locals who are looking for pieces for backyard projects. There are still pieces for sale inside the mill yard, and people are welcome to inquire.
The mill has been an expensive endeavour (Pryor gives the rough estimate of $5M over the duration of its set-up), but with product now being shipped, revenue will begin to flow. Pryor says the board recently approved a $100,000 donation to the Valemount Cares seniors housing project.
Winter logging
Pryor says their operation will be up the Dave Henry valley for the next two months, followed by blocks on the West Canoe until mid-January. They will then put in some roads up Westridge for the remainder of the winter.