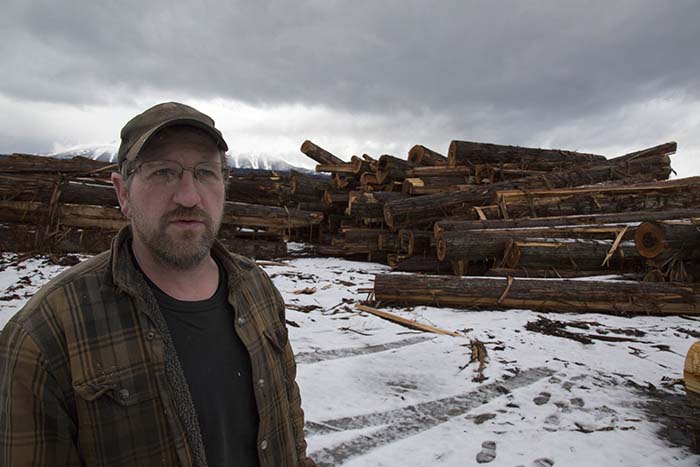 By Laura Keil
At the Valemount Industrial Park lands south of Valemount, you'll find pyramids of old-growth cedar logs next to towering hills of mulch.
This is where Jason Alexander and Brianne McNeill run their cedar mill alongside 13 other employees, a mill that's been in operation since 2000.
Cedar Valley Specialty Cuts relies on a steady supply of old-growth cedar, a term the province designates as trees older than 140 years old in the Interior. But with the BC Government's planned widespread old-growth deferrals, Cedar Valley, along with McBride mills BKB Cedar Manufacturing and Cedar 3 Products and nearly 50 jobs are at risk.
Alexander says the biggest problem now is lack of certainty.
"It's worrisome," he said. "But all it is is a deferral. I don't know. Nobody knows what's going on. That's the frustrating part."
Though he has enough stockpiled to last him the winter, the deferrals have already cut into their business, he says.
Since the announcement they have halted a major project and laid off two millwrights.
"That was a good-sized project, a bucking line for the post and rail."
He says major purchases, firing up new machinery, and hiring new people are all on ice until they get some clarity.
"In the immediate future we?re going to be working, but nobody knows what six months out is going to bring."
The deferrals are meant to hit the pause button on old-growth logging until the Province and First Nations have had time to draw up a more sustainable approach to forestry in B.C., something the government says will be done by 2023.
After that, it's uncertain whether the deferral areas will continue to be off-limits or may be open for logging under a newly-designed forestry system.
In both the short- and long-term, a lot depends on local First Nations. The Province has asked all of B.C.'s First Nations if they agree with the deferrals, or whether they require "further engagement to incorporate local and Indigenous knowledge, or would prefer to discuss deferrals through existing treaties, agreements and other constructive arrangements." They hope to have an answer, one way or another, by Dec. 2nd.
"We are going to have those government-to-government discussions with Indigenous nations on whether those areas will be put into deferrals and then we will have two years to determine if those will be permanent or not," said Forest Minister Katrine Conroy. "If they become permanent deferrals, then we will be looking at compensation to the companies."
Simpcw First Nation has a Woodlands Tenure in the Robson Valley and they sell some old-growth wood to Cedar Valley. We reached out to Simpcw Chief Shelly Loring and Lheidli T?enneh Chief Dolleen Logan about their First Nations? stances on the deferrals, but did not hear back by presstime.
On Nov. 15th, the Province said new legislation will reduce timber harvesting rights for the major industry players and double the tenure held by First Nations, and transfers would come out of the 26,000 square kilometres of deferred old growth forest. The transfers would be made to smaller license holders such as First Nations, local communities and smaller companies.
"There is significant concentration of forest tenures in the province and almost all of the available forests are already under tenure," the government said in a press release. "This makes it difficult to promote innovation and attract new entrants into the sector, including value-added operations and made-in-B.C. manufacturing."
A community hit hard
In the meantime, if the area's First Nations agree to the deferrals, it could mean a two-year moratorium on harvesting the valley's old cedar, and a shut-down of the area's mills once their stock runs dry.
The McBride Community Forest has been hit especially hard by the outlined deferrals. McBride Community Forest Manager Ray Thiessen says they affect roughly 40 per cent of their available timber supply, and possibly more, as they don't know yet whether they'll be able to build roads through deferral areas, meaning some non-deferred areas may be cut off.
"I'm just running some analysis right now to get an exact number. It's not really clear."
Thiessen says the deferral process is "horrible governance."
"Yes, old growth does need to be sorted out. We've been asking for cooperation to do that for a couple years. And this is what we get."
He is also concerned with how they chose deferral areas, and it doesn?t seem to be based on up-to-date information.
"The science that they used is inappropriate. It doesn't examine the areas, the soils and the eco-types and everything to nearly the degree that they should be for this kind of thing to be effective."
"We basically are in a position where we have to disprove the government's broad strokes."
It also puts the new Dunster Community Forest mill into tentative territory, right after the community forest invested a significant amount of money, said Thiessen who also manages the Dunter Community Forest.
McBride Mayor Gene Runtz, who is a Registered Professional Forester, says it's potentially a massive blow not just to the local forestry workers, but the whole community of McBride.
"For McBride as a community, if it goes through the way it's put right now (permanently), it's going to be literally catastrophic for the community. And you've got to remember, there has been a whole bunch of other deferrals that have happened."
Runtz said McBride's timber supply area has already been hit with Caribou closures and Old Growth Management Areas.
Runtz says the community's forestry and tourism industries are intertwined, with logging roads providing essential access to snowmobiling and hiking areas that draw dollars to the community.
Without forestry, he fears McBride will lose both primary industries that support the town.
"Who's going to take care of those roads for recreation purposes? Who's going to keep it open for snowmobile access?"
He said the proposed torrefied pellet mill won't have fibre to operate if these deferrals are made permanent.
Raj Basran, co-owner of BKB Cedar Manufacturing, says his mill should be ok for a year or so with existing cutting permits, but after that he's not sure. He says 25 people work full-time at the mill, as well as seven employees who work seasonally on the logging side. He says their main business plan for the last two years has relied on Grade 4 Cedar from BC Timber Sales, the provincial forestry company, which has immediately ceased selling in the deferral areas.
Longer-term, he says it's possible to change their business plan to other species, but it depends what species are affected and to what extent.
"Long-term, no fibre, no manufacturing, right? So it really depends on the outcome of all this."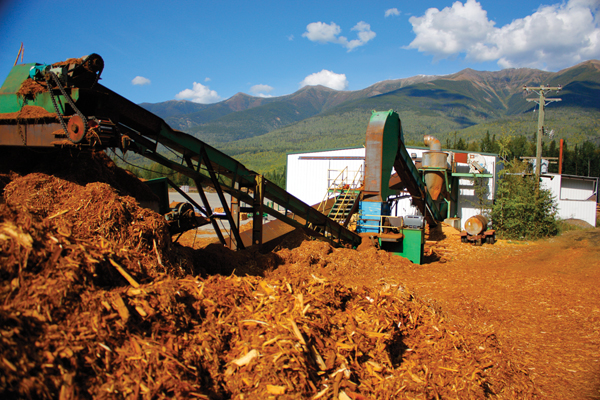 Valemount Community Forest Manager Craig Pryor says the deferrals affect roughly 20 per cent of their timber supply area, and covers all of the old cedar. Roughly half of their winter season is affected. He said their mill under construction will lose some of the large timber fibre, but will still be able to proceed with smaller logs.
Pryor says the maps provided don't take into account other values. For instance, they cover one side of a valley, but not the other side, which provides superior grizzly habitat. He's also not sure if older trees adjacent to deferral areas can be harvested.
"They're doing everything at 10,000 feet and not considering values," he said. "We're here, and when you live here you see it differently."
Pryor said the Community forest is trying to find that balance between protecting local forests and protecting locals.
Thiessen says they sent the Province up-to-date inventories six months ago, and it's clear that data wasn't used in the deferral maps.
The Province shows on its website that an Old-Growth Current Conditions report for the Robson Valley Timber Supply area is underway. The scheduled completion date is fall 2021.
Contested and Confusing Numbers
Numbers provided by the Province's Old Growth Technical Advisory Panel, suggest that B.C. still has just under half of the old-growth forest it did historically—11.1 Million hectares, of which 3.5M is already protected .
Cam Brown, RPF, MF, lead author of a study released in October commissioned by BC's Community Forest Association, says those numbers are misleading.
In his report, Brown says 75 per cent of old-growth areas are already protected or outside the Timber Harvesting Land Base, meaning those forests are already safe from logging. The timber harvesting land base is defined by the BC Forest Practices Board as forest within the timber supply area where harvesting is considered both acceptable and economically feasible, given objectives for all relevant forest values, existing timber quality, market values, and applicable technology.
He says in meetings he sat in with government during the last year, bureaucrats confirmed that of the 2.6M hectares of priority at-risk old growth, half of that, or 1.3M is outside of the Timber Harvesting Land Base.
"I think even COFI (BC Council of Forest Industries) was fooled because some of the jobs and economic impact numbers they put out were clearly based on the 2.6M," he said. "I'm not sure why they (the Province) didn't make that distinction, other than the number sounds good as a big number, I guess."
He also says the amount proposed as "priority at-risk" doesn't follow the government's own advice to maintain at least 30 per cent of former old forests.
He said the advisory panel went to the government and said they wanted to protect 7.6M hectares (of which 5M hectares was unprotected).
"Then the government said to them, no, that's too big. So they went and they boiled it down to the 2.6. Despite really aggressive prodding, I can't figure out how and where they decided to scale back from that 30 per cent of natural, in what ecosystems."
He also said the historic estimate of 25M hectares of old-growth is just an estimate, and behind closed doors government officials used a range of 19-25M hectares.
Urban-Rural Divide
Thiessen says there is a disconnect between people living in cities and those living on the land in terms of how they perceive old-growth.
"If you live in West Vancouver, you go, 'Well, great, old-growth is deferred.'"
For him, it feels like urban folks don't want to acknowledge the source of common products.
"I want to tell urban people that milk comes from a cow. It doesn't come from Save On. Toilet paper comes from a forest."
He says forests aren't static. You can't just freeze old-growth areas. All areas are undergoing constant change due to their age, disturbances like pests, fire or climate, and taking certain areas off the books doesn't honour the individual variations in forests that locals on the ground perceive.
"If you see big broad brush strokes like this, you know, somebody really isn't thinking about it that much."
Protecting forests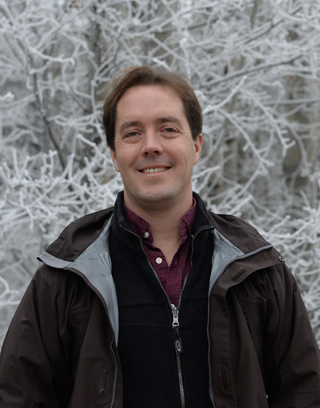 Dr. Ché Elkin, Professor in the Department of Ecosystem Science and Management at UNBC, researches how forest management practices can be modified to improve the ecological and economic resilience in mixed-wood forests.
He says there are a range of different values associated with maintaining old-growth, including providing habitat for species at risk, eco-system biodiversity, and resilience to future environmental change.
"Current science kind of suggests that these areas are going to be more resilient to future changes. So with the upcoming climate change, with changes in the actual demands that we're putting on our forest resources, these theoretically should give us a little bit more resilience."
He said old-growth areas can also be large repositories for carbon.
"Carbon's a little bit tricky, and highly dependent on what you're actually going to do with the area and the risk of the area being lost to other disturbances, but just as a blanket statement, old growth areas where they have a lot of biomass and they have a lot of trees, they're going to hold a lot of carbon. And current research suggests that those old forests are still accumulating a reasonable amount of carbon."
Runtz says the science behind carbon storage is contested, and more research needs to be done. He says when trees start to rot, they release their carbon into the atmosphere, whereas when a tree is cut down, it can be stored in the wood if the wood product is a long-lasting one.
Elkin says other benefits to lack of disturbance in an area over a long period of time can be a more complex eco-system with different microbes, bacteria and invertebrate species not associated directly with big trees.
"These ecosystems, these communities have a long time to develop. And often they've developed into different community structures than you'd see in an earlier stage type of forest."
He says the question is how to transition forestry from targeting primary forests to secondary forests.
"The fundamental issue is that old growth forests, primary forests, are not a renewable resource within a 200 to 600 year span. And we need to kind of think about how we're going to start logging, doing sustainable forestry in the secondary rotation that we now have on most of our landscape."
He doesn't believe having a reliable supply of high-quality volume and providing forest health, ecological resilience, and recreational values are mutually exclusive.
"The way that we do forestry right now presents them as being mutually exclusive. That's why we need a little bit more of a fundamental shift of what forestry is going to look like, which is frankly going to be hard."