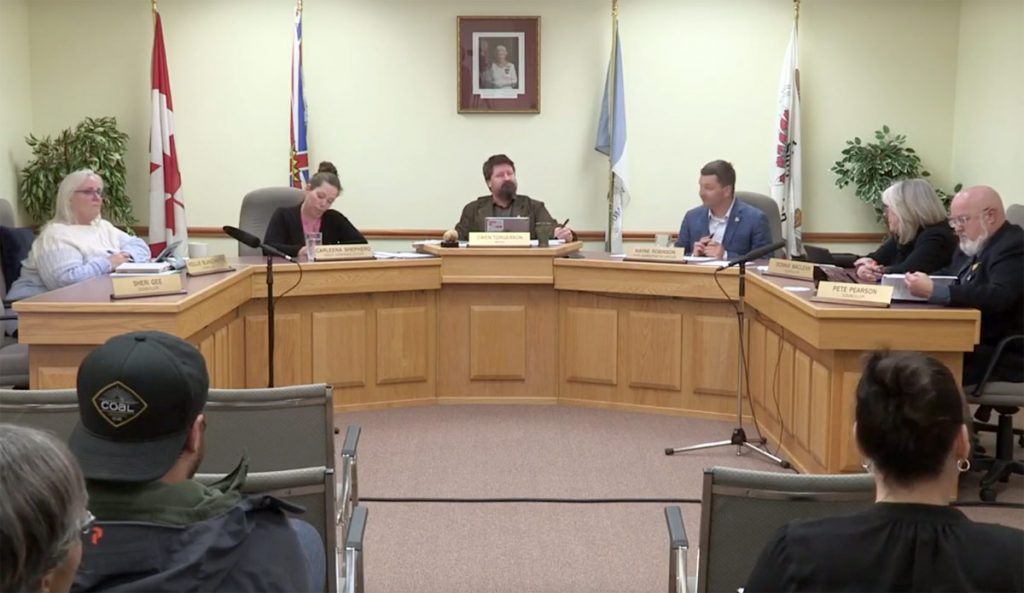 By Andrea Arnold
Valemount Mayor Owen Torgerson called the October 12, 2021. All members of Council were present in chambers.
Valemount Industrial Park Articles of Incorporation
Prior to the motion, Councillor MacLean recused herself as a co-owner of a company that does business with the Valemount Community Forest. After taking the motion from the table, where it was left after the September 28, 2021 meeting, Council passed the motion to amend the Valemount Industrial Park Articles of Incorporation. The amendments change the composition of the company's Board of Directors to include one councillor and one village staff member. These articles will be forwarded to the Inspector of Municipalities for approval. On a related topic, Council also took Policy 81 from the table and passed it as presented. Councillor Blanchette spoke to the letters that have been received and wants to remind residents that policies can be amended at any time. Councillor Person is hoping that everyone can work together and not make this an adversarial situation.
Fee waiving request
Councillors Blanchette and Gee recused themselves from the following motion due to their involvement with RVCS. Council approved waiving the rental fees for the Robson Valley Community Services Food Literacy Program for a maximum of two days (10 hours) per month for the next 12 months, subject to compliance with Village Bylaws and Policies, including the provision of a Communicable Disease Mitigation Plan.
Association appointment
Valemount and Area Recreation Development Association – Board Appointment for 2021/22
Blanchette moved to have Mayor Torgerson continue his role with the association. Council unanimously agreed.
Accounts payable
Council received the Accounts payable report for September 2021.
Signing Authority
Council agreed to remove Wayne Robinson as a signing authority for the Village of Valemount and add Suzanne Bloodoff as a signing authority for the Village.
Grant applications
Council directed staff to apply to both the Jobs and Growth Fund in Western Canada as well as the Canada Community Revitalization Fund in Western Canada up to a maximum amount of $1,066,800. The money from these grants, if either application is successful, would be used to cover the Village's commitment to the Geothermal District Heating Project.
Permits
Council approved Development Permit 21-03 and Development Variance Permit 21-02, for 1160 5th Avenue (Three Ranges Brewing Company). The proposed addition is to accommodate the required upgraded electrical services for the installation of larger brewing equipment and to create additional production space.
Notice of Motion
Councillor Blanchette requested they work together for clear commitment from Council and staff for the process of supporting the housing committee in relation to the strategic priorities. Following a short discussion, the request for motion was summarized by Mayor Torgerson: that Council revisit strategic priorities in terms of land use and development support. This will be brought forward as a motion at an upcoming meeting.
Councillor reports
The councillors and mayor provided verbal reports about their recent activities.
Public Comments
Mike Lewis thanked Council for the speedy passing of the development permit for Three Ranges.
Valemount resident Eugene Jamin mentioned that a housing committee staff member is in a quandary as to his status on the committee and needs the definitions in order to proceed. Jamin also had a question regarding council stipend, and how conflict of interest is avoided for Councillors. Mayor Torgerson replied that the topic is part of the Oath of Office each member takes at the beginning of their term. Jamin wondered if something along the same lines could be done with members of the community forest. Mayor Torgerson commented that it is unknown as the process is done with elected officials, not appointed board members.
Rashmi Narayan commented that she is disheartened that staff will be taking time to adjust strategic priorities when it could be covered under "age friendly living." She also expressed concern that geothermal grants were being fronted by the village, when it is a private entity that will ultimately benefit.
In Camera
Council moved to an in-camera meeting for consideration of three items per Section 90 (1)(c) of the Community Charter to discuss matters related to: (c) labour relations or other employee relations.