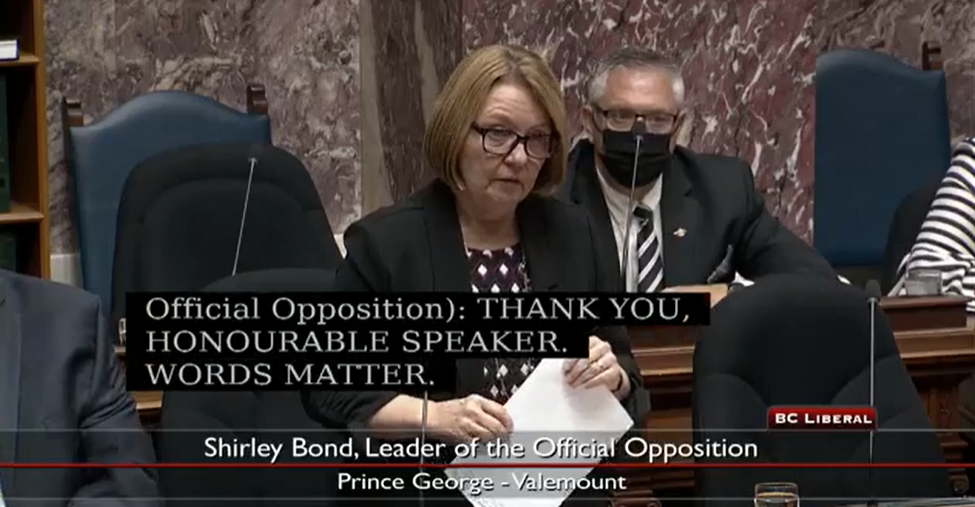 By Michael Piasetzki
The British Columbia Legislative Assembly reconvened Oct. 4th in Victoria after an almost 3.5-month adjournment.
In preparation for the current session, Prince George-Valemount Liberal MLA and Leader of the Opposition Shirley Bond addressed the press, delivering her thoughts and intentions for the upcoming session of the house.
Bond outlined her thoughts and intentions on numerous issues, including the ongoing COVID-19 situation, the dangerous opioid crisis in the province and the recent devastating heat dome in B.C. that cost the lives of 600 seniors.
When asked about her concerns surrounding the current state of the forest industry in northern B.C., and the problems related to it, Bond quickly pointed towards B.C. Premier John Horgan.
"Unlike John Horgan I understand the complexity of the forest industry in this province," Bond said. "We need to look at the complexities related to bio-diversity and the need to balance that against the economic impact and people's jobs. We need better forest practice management in this province."
Bond said her party understands the current situation at Fairy Creek where an application to extend an injunction against old growth-logging blockades was denied by a judge on Sept. 28.
"We respect people's rights to protest but there are also limits as to how this is done," Bond said. "It's time Premier Horgan took control of this file and made some progress."
In respect to the opioid crisis, Bond said that will be one of the most important issues her party will raise in the legislature.
"There was a record set in July for deaths by opioid overdoses in the province," Bond said. "This is one of the most important issues that has to be dealt with and there has to be a new approach by the government in regards to it."
In respect to the heat dome that enveloped much of B.C. this past summer causing temperatures to soar to 40+ C in many parts of the province, Bond said one of the consequential issues that she will bring up in the legislature will be the wildfire response.
"Not to mention COVID-19" added Bond. "We do support implementation of vaccine passports and are aware that some businesses are not forcing the rules upon their customers. We suggest that people contact bylaw enforcement officers to report these kinds of situations."
Bond added that one of the most under-utilized tools to fight COVID-19 has been the use of rapid testing at schools in particular.
"We know the province has access to literally millions of rapid tests," Bond said. "We're hearing from organizations like the B.C. Teachers Federation that they're willing to have a conversation about how that might be utilized. We're also hearing it from employer groups. We know how important it is to best understand the health of people who are living in our province. We are very concerned when we hear that here in Northern B.C. there have been delays in people getting test results, finding a place to get tested and all those challenging situations."