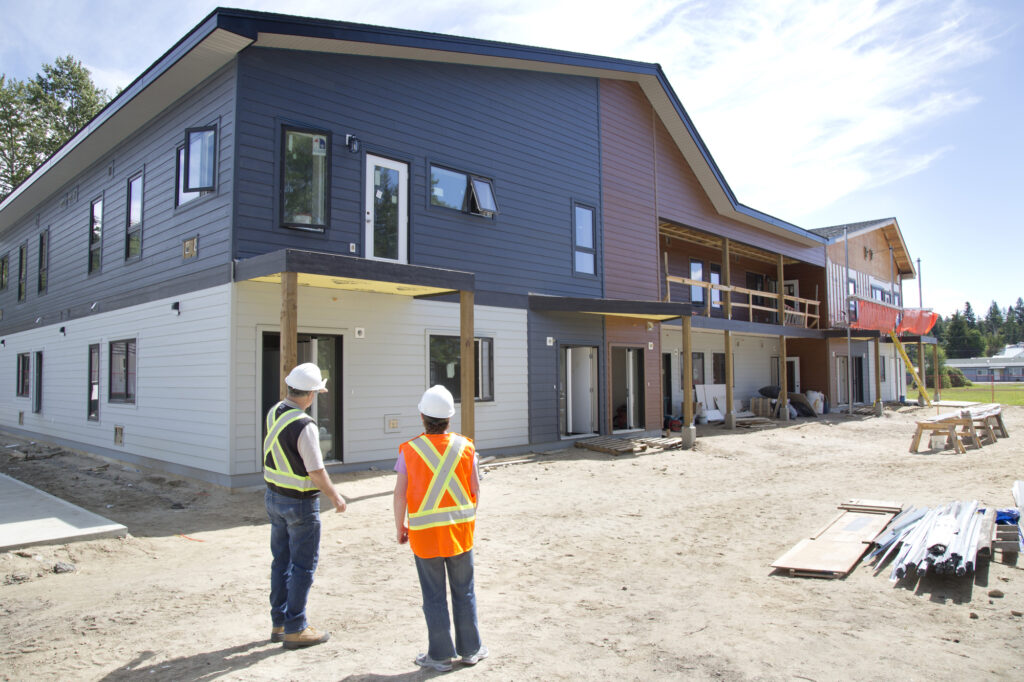 By Laura Keil
Valemount's new 13-unit apartment building is getting close to being done, as workers install cabinets, flooring and fixtures and finish the outside.
The Goat toured the complex with Valemount Affordable Rentals Society (VARS) member Korie Marshall and Doug Miller of Wild Montane Construction—contracted under Whitson Contracting—to get an idea of the building and its progress.
Efficient design
The building meets BC's Step 3 Building Code, and features 15in walls with R30 insulation, Heat Recovery Ventilator systems, and high-grade windows and doors.
There is one 3-bedroom-2-bathroom unit and four 1-bedroom units on the main floor; and eight 2-bedroom units on the second floor. Many of the units are accessible or could be converted.
The units are compact, but surprisingly roomy, and the kitchen-living space area is open concept in all the suites. Each suite has its own entrance, with a main level closet/mud room in all the stairwells leading to the second-floor units.
Each tenant also has access to a secure storage unit outside their suite in another part of the building. Many of the suites feature mountain views and each one has a small patio or balcony area.
Builder Doug Miller says his company has done many multi-family projects, but this is his first with BC Housing.
"It's really interesting to see how energy efficiency has driven the construction industry in the last 10 years," he said. "BC has been at the forefront for sure."
Marshall says the energy efficient design will help keep operating costs and heating costs down.
Nine of the units will be subsidized based on the tenant's income, with the other four at market rate for people with moderate incomes.
How to apply
Marshall says VARS encourages local families to apply to live in the new building, which should be ready by late summer. She says anyone interested in living there can start applying via the Housing Registry on BC Housing's website. From these applications, a VARS committee will vet who will become a tenant.
To apply to the housing registry, visit this link: tinyurl.com/bchousing13. Marshall says a declaration needs to be printed, signed, and mailed to the Housing Registry (even with the online application). Marshall says people can visit the library or the learning centre for assistance with both parts of the process or give her a call/email at 250-566-3762 or [email protected]
The project's total capital budget is approximately $4.27 million. The Province provided $1.34 million to the project through the Building BC: Community Housing Fund. The Canada Mortgage and Housing Corporation provided $300,000 through the Federal Bilateral Canada Community Housing Initiative Grant. Columbia Basin Trust provided $169,400 to the project. The Village of Valemount waived $25,493 in development costs. VARS provided the land for the project. The remaining cost is covered by a mortgage with BC Housing.
Wild Montane Construction
Miller said his goal was to use as many local trades and businesses as possible to maximize the construction dollars circulated in the valley.
"This took a bit of extra effort but proved you can build a project of this size with a local builder," Miller said.
Miller and his wife Gail both come from second and third generation construction families and have been in construction their whole careers, mostly in commercial and residential construction, but also projects in industrial, institutional, and wood frame multi-family.
Wild Montane is fully certified and licensed in B.C. and is in the process of relocating its operations to Valemount from Stony Plain. This is its third project in Valemount.
"Gail and I are looking forward to taking this last step of transitioning ourselves and the business here to the Valley now that we have navigated our way through the worst of this pandemic and want to thank VARS and the community for the opportunity to be part of this project."