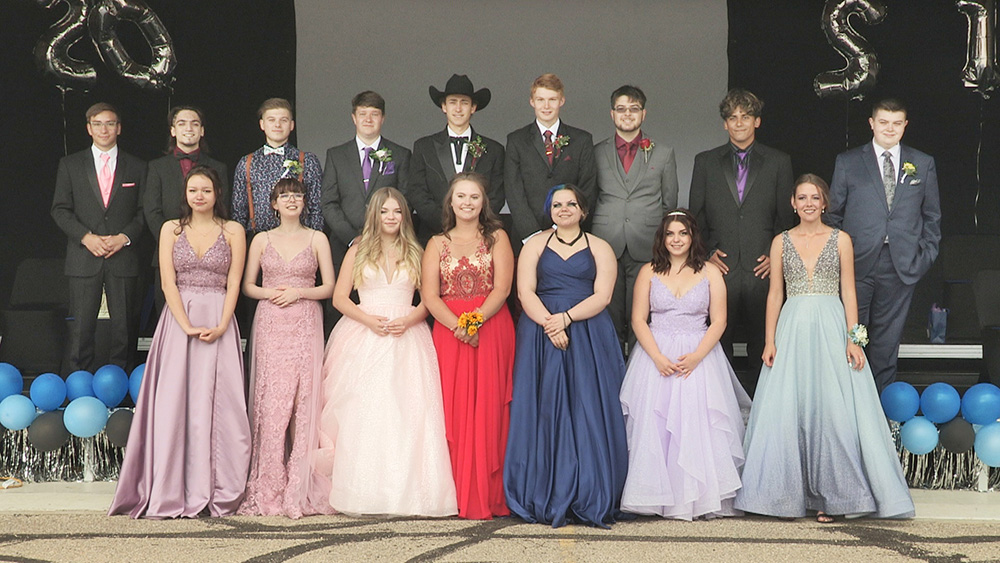 By Michael Peters (edited for length)
Holding a high school graduation ceremony during a pandemic poses many challenges. With stringent public health orders in place covering the types of venues permitted, number of attendees, social distancing, mask wearing, and more, the organizers of the 2021 Valemount Secondary grad had to get innovative. Their solution was an outdoor drive-in grad at the Valemount Airport June 5th with minimal public attendance, livestreamed for family and friends.
To help put the live stream together, VSS Principal Derrick Shaw turned to VCTV Station Manager Michael Peters and Kiba Dempsey, IT specialist for the Robson Valley schools of School District 57.
Step one was to test the internet connectivity speed at the airport to see if it could handle the demands of a live stream. Unfortunately, there was not sufficient bandwidth for a stable stream, but a Valemount resident was willing to loan his SpaceX Starlink satellite internet system, which allowed good enough speeds for a good stream.
Step two was to figure out how to allow families and friends in attendance who had to remain in their vehicles as per Covid-19 regulations to hear the proceedings. If the weather was inclement (and it was), the windows of the vehicles would be rolled up.
Principal Shaw came up with the excellent idea of connecting an FM transmitter to the audio mixing board and sending the sound via radio directly to attendees' car radios. As a result, the radio station 97.5 FM was born, just for the day, and it worked perfectly.
Step three was to come up with a solution to film the grad using three cameras and to encode all that high definition video for streaming. Fortunately, earlier this year, VCTV was awarded a Tech grant through the Columbia Basin Trust and they purchased a four-input video switcher with a built-in streaming encoder. However, two of the cameras would be positioned too far away from the switcher/encoder unit without purchasing very long and expensive HDMI cables to connect them.
Dempsey found a solution online: it consisted of two wireless HDMI video transmitters, each with a 150-foot range. VCTV purchased these and tested them. They worked flawlessly, sending clear video back to the switcher with no delay.
The last piece of the puzzle was for Dempsey to set up the livestream on Valemount Secondary's YouTube channel, test it, and take it live. During the event, the stream froze momentarily, but otherwise the system worked extremely well.
The weather proved very challenging with gusting winds threatening several times to carry the tent away which was covering the camera and streaming equipment. A good Samaritan and Dempsey helped by adding additional sandbags to secure the tent, but Peters was still forced to hold the tent with one hand while shooting video with the other on several occasions.
"I think one of the things the pandemic has taught us is that if we want to continue to hold important community events like this one under restrictions, we need to collaborate and not be afraid to think outside of our comfort zone, technologically speaking", said Peters. "This was a complex set-up. To do it in a large centre would be easier, but it would still cost several thousands of dollars for all the equipment and personnel required. We managed to pull it off successfully for a fraction of that cost through the work and commitment of a handful of people. I'm really proud of what our team accomplished."
You can view the livestream here on YouTube: tinyurl.com/valegrad21