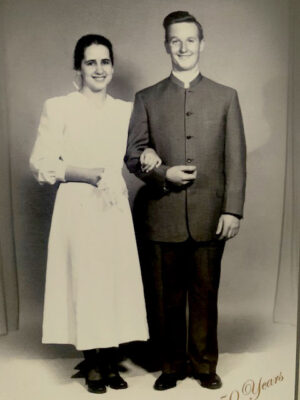 By Andrea Arnold
---
Wayne and Joyce Zimmerman, long time residents of the Robson Valley, celebrate their 65th wedding anniversary on Thursday, February 11, 2021. The couple moved to the valley from Pennsylvania in April of 1960, shortly after their 4th anniversary, with three children in tow. They moved to a property on Mountain View Road where they raised eight boys and six girls and built up a successful dairy farm.
In 1999, Wayne and Joyce traded homes with son Ed, who lived in a smaller house across the field. They still live in the home, enjoying the views over the beautiful valley they call home.
Wayne's involvement at the dairy continued after the move, but he has recently retired. "I'm the gopher now," he said.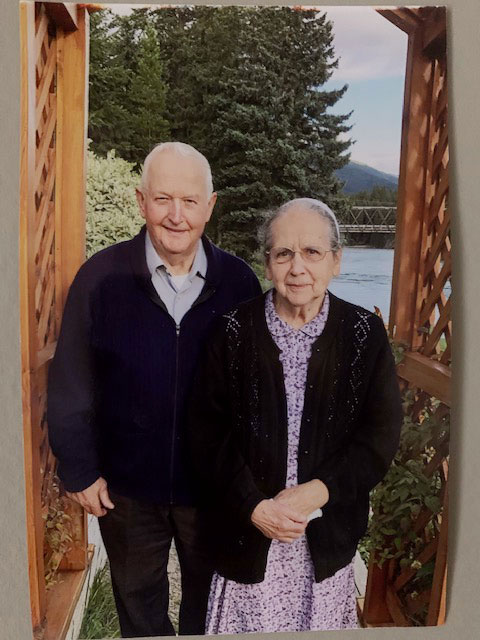 A piece of advice Wayne would like to share with other couples is to "never say no when you're asked to do something, as long as it is possible." He also believes that cooperation and consideration between partners needs to be equal.
Wayne and Joyce have family members scattered across the world. They have 100 living grandchildren, 132 great grandchildren, and counting. Family is very important to the couple. "A real blessing that we have had is children who obey reasonable commands that we have given," he said.
A favourite bible verse illustrates their love for their family. "I have no greater joy, than to hear my children walk in truth," (3 John 1:4 KJV).
At this time, the couple is unable to have a large celebration or visitors, but would welcome a phone call 250 569 2521, or card sent to Box 302, McBride, BC VOJ 2EO from anyone wishing to extend congratulations.