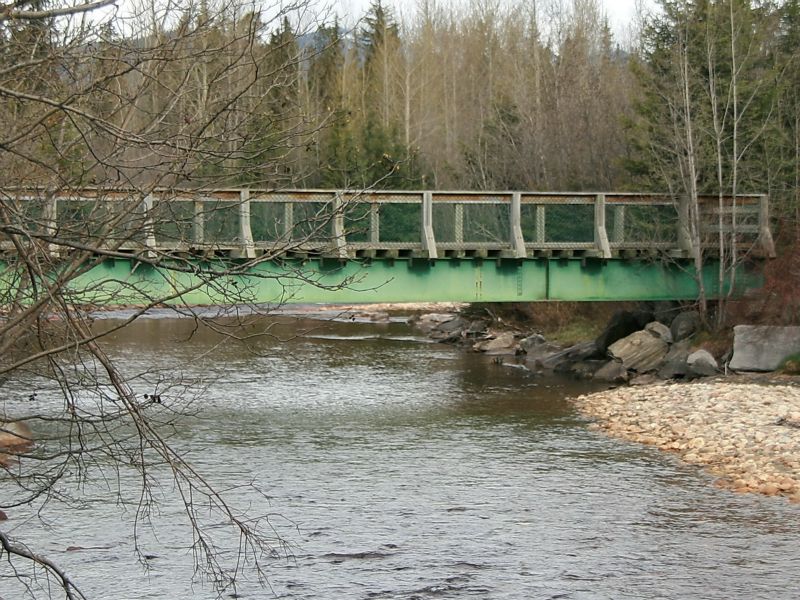 By Andru McCracken
---
A new draft parks plan being created by the Regional District of Fraser Fort George could see a new pedestrian crossing over Swift Creek at George Hicks Park.
The park already has a viewing platform straddling the creek; the plan proposes extending the viewing platform that extends over the creek into a pedestrian bridge, allowing visitors staying at Yellowhead Campground to access the park without walking alongside the highway.
Three Robson Valley parks are managed by the Regional District of Fraser Fort George and the 10-year plan outlines a few priorities for each.
Apart from George Hicks, near the Information Centre in Valemount, there is the Cedarside Regional Park, a swimming area a few kilometres south of Valemount; and Koenemen Park just across the Fraser from McBride.
The plan for these parks (and other parks in the regional district) is going through its second round of public input before it is finalized.
The new plan proposes to widen the trail to the beach at Cedarside, add a loop trail with interpretive signage and do more to discourage people from using a steep bank to access the recreation area.
The plan proposes that Koeneman Park become a hub for trails by working with the local horse riding, hiking and biking groups, to update interpretative signage (in consultation with the Village of McBride), and to consult with the community to determine the level of interest in using the heritage building. If the level of interest is high the Regional District would apply for funding to complete renovations and work with community groups in order to do so.
Public input
Regional District representative Dannielle Alan said she hopes residents will take some time to review the plan.
"We want input and comments from all sectors, not just the hiking enthusiasts, to make sure your views are heard. The parks are for the benefit of the people in the region; without your input it is hard to make good decisions," she said.