By Fran Yanor / Legislative Reporter
---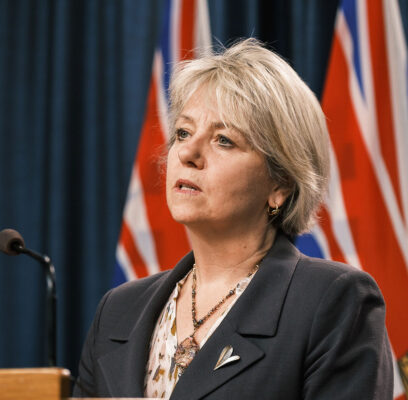 An estimated 550,000 British Columbians will get their first COVID-19 vaccine dose before April, with a 'mass vaccination' program to follow in the spring, said the province's top health officer in January.
About 75,000 people deemed the highest risk of developing severe illness are getting the vaccine first, including residents, staff and essential visitors of long-term care and assisted-living facilities, and elderly patients on acute care hospital wards.
"Those are the people that we know need our protection most," said Provincial Health Officer Dr. Bonnie Henry, outlining B.C.'s vaccine rollout plans on Jan. 4.
An additional 55,000 hospital health care workers, paramedics, public health workers, and residents of remote Indigenous communities will also be immunized by the end of February.
From February to March, another 400,000 British Columbians will get their first vaccine dose, including community-based seniors over 80 years-old and First Nations people 65 years and older, along with, people experiencing homelessness, those living in shelters, correctional facilities, groups homes and mental health residential care. As well, long-term support staff, hospital staff, doctors, medical specialists and members of First Nation communities will be vaccinated.
Mass vaccination strategy
In April, contingent on supply, and following the immunization of people aged 80-plus, a 'mass vaccination strategy' will begin in descending five-year age increments. Henry said.
"I expect that this (expansion) will happen very rapidly in the spring," Henry at a December briefing. "It is at that point, when we have vaccine widely distributed in our communities, where many people are protected, that we will be able to stop this pandemic."
Details of B.C.'s vaccination roll-out plan for the larger population will be announced towards the end of January.
By April, Henry estimated nearly 800,000 doses will have been administered in the province. Of those, almost 550,000 people will have gotten a first dose only, and 243,000 will have gotten both required doses.
Two vaccine doses are needed for maximum effectiveness. Clinical trials indicate two doses, spaced at least 21 days apart, were 94 to 95 per cent effective in protecting people from contracting a COVID-19 infection or developing severe illness.
"We were hoping for vaccines that were at least 50 to 60 per cent effective," Henry said in December. "The fact that these ones are in the high 90s is the best that we could hope for in public health when we look at protecting people in our community."
Initial vaccine shipments received in December and January will be used to get a maximum number of first doses into arms as quickly as possible. Second doses will begin 35 days later.
"We've made that decision based on trying to protect as many people as possible during this highest risk period, and making sure that we are still able to give second doses within a reasonable amount of time," said Henry.
Canada has ordered vaccine from seven different companies around the world, each in various stages of development and expected to arrive as international and Canadian health approvals are cleared.
As of Jan. 4, Canada had approved two COVID-19 vaccines, and B.C. had received almost 55,000 doses of Pfizer and Moderna vaccines. Of those, 2,650 doses in total had been delivered to Northern Health and 5,300 vaccines were slated for remote Indigenous communities, many located in Northern B.C.
Each health authority will determine vaccination sequencing based on the same National Advisory Committee on Immunizations (NACI) criteria used in the rest of B.C. and Canada, said Henry.
Unprecedented collaboration
"The global community of scientists have collaborated in ways we never experienced before, with a single purpose in mind to develop a safe and effective vaccine for the world," Henry said. "The greatest brains around the world were put to this process and to this task, and, of course, we had an addition of a lot of money to help support the process."
British Columbians should be assured each vaccine manufacturer had to demonstrate clear and substantial scientific and clinical evidence that the vaccines are safe, effective, and manufactured to the highest quality, Henry said.
"Health Canada, and other regulators around the world, set the bar high to ensure that any vaccines that came out of this process met those standards, that they were safe, that they worked, and that they were quality vaccine," she said.
Fran Yanor / Local Journalism Initiative / [email protected]